The 25 Top-Rated Range Extenders, Repeaters & Wireless Signal Boosters to Amplify Your WiFi for Your Home and Beyond
We're living in a connected world. And that means we all know the pain of walking two steps to the left, only to tumble smartphone-first into a WiFi dead zone. It's a buffering nightmare.
Luckily, we're still living in a connected world. And that means that tech companies not only understand our pain, but have us covered. With lots of solutions, in fact. Our rescuers go by the names of WiFi range extenders, repeaters, signal boosters, and access points to help increase your WiFi signal range.
These handy little devices, many of which install in under a minute, promise to extend your router range to cover your whole home. Most offer speeds of up to 300Mbps – the average home internet speed is around 55Mbps in the U.S., according to Ookla, so at 300Mbps, we're talking almost 6x average speeds – and a variety of protocols, security, and other WiFi options.
Do note that, despite the "boost" in their name, these miracle-workers can't actually boost your Internet speeds. Rather, they extend your router range, giving you wireless access in areas that would otherwise be dead zones.
Now that we have that down, let's get to it – the 25 best WiFi range extenders on the market today:
Let's kick off our list with one of the most popular WiFi range extenders out there: The NETGEAR Nighthawk AC1900. Billed as a gamer's range extender, this bit of tech offers some of the best specs on the market, including blazing fast speeds of up to 1900Mbps (that's 1.9Gbps!), meaning this extender is also an excellent choice for streaming. (Especially in households where you're streaming more than one program at a time.)
Key Features:
Extreme dual-band WiFi with speeds up to 1.9Gbps (1900Mbps)
5 Gigabit ports – connect your wired devices (game consoles, smart TVs, etc.)
USB 3.0 = faster access (up to 10x) to your stored media
Price: $109.99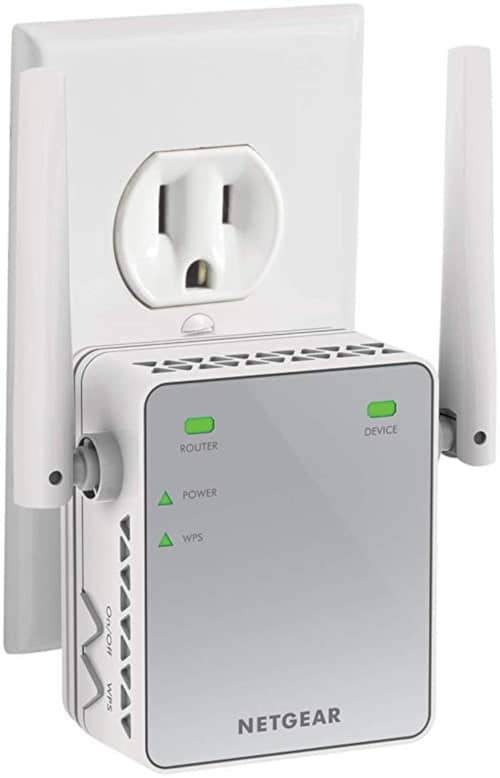 Designed for standard home or office use, the NETGEAR WiFi Range Extender N300 offers speeds of up to 300Mbps. We love that's it's super portable – you need only plug it in, and it's ready to boost your range – this tiny repeater can help knock out the WiFi dead-spots in your home. (Old plaster walls don't play very nice with new tech, do they?)
Key Features:
Integrates with 802.11 b/g/n 2.4GHz wireless router or gateway
Easy plug-in design for anywhere portability
Small enough to fit in a briefcase, purse, or backpack
Price: $17
Raise your hand if you've ever been frustrated by weak WiFi signals when you're out and about. Sure, your favorite coffee shop, or your business hotel, or that cute restaurant with outdoor seating says they offer free WiFi, but in reality, the signal is so weak as to be unusable. Enter the Prescitech 300Mbps, which is tiny enough to fit in your wallet and so easy to set up, you'll have WiFi in no time, anywhere you go (setup takes just 1 minute).
Key Features:
11n WiFi technology, with speeds up to 300Mbps
Slim, compact design for portability in a purse, pocket, or even a (largish) wallet
Plug into any standard AC charger or adapter, your TV/computer's USB port, or even a portable power bank (like what you'd use to charge your phone on-the-go)
Price: $30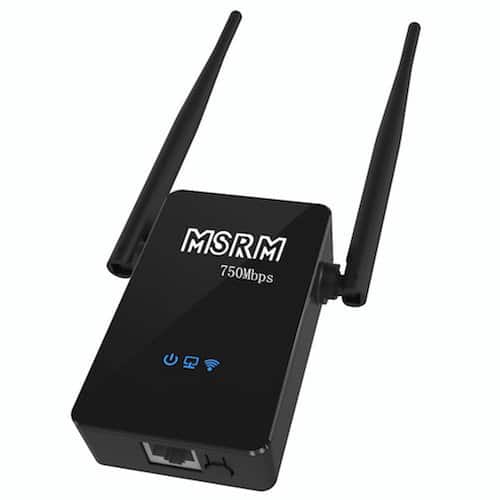 If 300Mbps just doesn't do it for you, it'll hard to beat the features (and price point) on this dual-band extender that supports wireless speeds up to 750Mbps. There's lots of tech built into this little gadget, which supports Wi-Fi 802.11g, Wi-Fi 802.11b, and Wi-Fi 802.11n, and allows you to choose your transmission (2.4 or 5.0 GHz).
Key Features:
Super simple, plug-in installation – couldn't be easier
Choose 2.4GHz or 5GHz, to reduce WiFi interference with other devices
Does not support WPS
Price: $41
Good things do come in small packages. This small-but-powerful device offers 3-in-1 functionality: It works as a range extender/repeater, a wireless router, and a wireless access point. That means you can carry it with you everywhere, and use it to instantly create your own private WiFi network, extend the range of an existing network, or convert an existing wired network into wireless. It's almost like magic.
Key Features:
Incredibly simple installation via WPS (can also install via web/QR code)
3-in-1 functionality: router mode, repeat mode, AP mode
Compatible with any wireless network, router, and WiFi-enabled devices, including desktops, laptops, tablets, smartphone, and smart TVs
Price: $13.99
If you're looking for champagne functionality on a beer budget, have a gander at Almond, a touchscreen WiFi router AND range extender AND access point AND wireless bridge. (Say that three times fast.) As its name implies, this is a touchscreen router, which means that you can set up and tweak your settings via the intuitive touchscreen – no clunky computer setup required. We also love that it's secure, right out of the box.
Key Features:
Touchscreen Wizard cuts setup to just 3 minutes
Compatible with all 802.11b/g/n networks, offering speeds up to 300Mbps and features including port-forwarding, firewall, DMZ, and UPnP
Talks to Amazon Alexa: Control your WiFi-connected smart devices via voice commands
Price: $90
Here's a genius idea: Use your existing powerline adapters to boost the WiFi signal throughout your home. That's exactly the M.O. of TP Link's AV500 range extender, which requires some (relatively easy) setup via Ethernet connections, before extending your wireless signal to all those hard-to-reach areas of your home. We love that, even at this low price point, the package includes two range extenders for whole-home coverage.
Key Features:
Strong 2.4GHz connection with speeds up to 300Mbps and one-touch 128-bit AES encryption
Compact design plugs in without blocking other outlets
QoS protocols route the most important WiFi traffic first, and therefore increase your overall network efficiency
Fee lifetime support
Price: $59.99
The VICTONY US402 is a straightforward little device: plug it in, get better WiFi. It's really as simple as that. But, if you want to get a little more complicated about it, fine: this range extender uses a built-in dual Realtek chipset, external antennas, and a simple wall plug to boost your WiFi signal, even in the hardest-to-reach annals of your home or office.
Key Features:
Plug-in range extender can be installed anywhere
Work with all broadband internet providers and 2.4GHz WLAN networks
Dual, external 5dBi antennas extend WiFi range through walls and other hard-to-breach WiFi blockers
Price: $95.55
NETGEAR is back with another addition to our list – this time, the N300 wall-plug WiFi range extender. The device works with any standard WiFi router, and uses external antennas to ensure optimal performance. Like similar devices, the wall-plug design saves space and makes it easy to install anywhere you have an outlet.
Key Features:
Universal compatibility extends wireless coverage to any WiFi-enabled device
Easy to install, with no CD required
Find the best location (= optimal WiFi coverage), thanks to built-in smart LED indicators
Price: $49.99
Have WiFi dead zones in your home, office, or warehouse? It's the MSRM US 300 to the rescue! Simply install this handy device half-way between your wireless router and signal trouble spot, and you'll see an instant improvement. With proper placement, you can effectively double the operating radius of your existing wireless network.
Key Features:
Extends your range with speeds up to 300Mbps
Long-range repeater works with 11b/g/n, 2.4 GHz technology
Quick & easy installation via the user-friendly wizard setup
Price: $63.94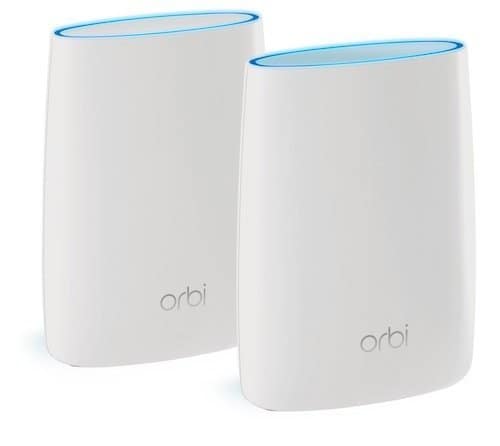 Oh hi, NETGEAR. That's right, the networking company is back with another great range extender: the Orbi Home AC3000. This tri-band WiFi system is one of the easiest (if not the cheapest) ways to outfit your entire home with lightening-fast WiFi in every corner. The system covers up to 5,000 square feet and eliminates the need for any additional WiFi boosters or extenders: it's one and done, and then you're off to binge-watch your favorite streaming show.
Key Features:
Tri-band WiFi means your internet runs at maximum speed, no matter how many devices you connect
Cover up to 5,000 square-feet, with no need for additional extenders or boosters
Robust options include guest WiFi networks, Amazon Echo/Alexa controls, and more
Price: $284.95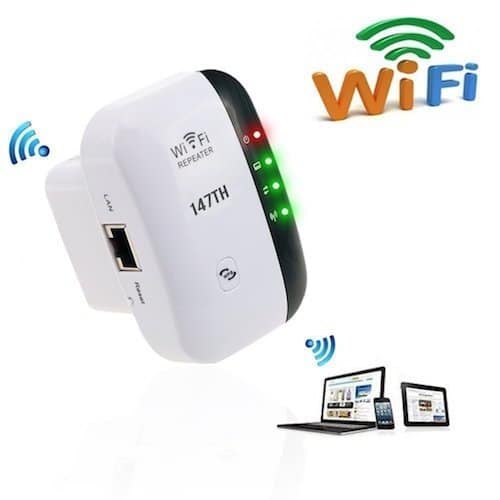 If you suffer from WiFi signal holes throughout your home or office, then this simple range extender could be the inexpensive answer to your woes. Simply plug in and walk away – you're ready to rock and roll. And by rock and roll, we mean hop online. (Rock and roll videos included.)
Key Features:
Fast speeds of up to 300Mbps
Works with your existing 802.11b/g/n network and wireless products
Easy installation via simple setup
Price: $24.99
Here's something a little different from most of the devices on this list: Instead of offering a simple extender, eero is a whole-home WiFi system that eliminates the need for wireless routers, signal boosters, and range extenders. Simply replace your existing router with eero, add on additional eero if needed (homes 1,000+ square-feet), and enjoy a strong signal and a super secure network throughout your home.
Key Features:
Use one eero to cover up to 1,000 square-feet; additional eero will extend your range throughout larger areas (three are enough to cover the typical U.S. home)
Superior security via WPA2 personal wireless encryption, VPN passthrough, UPnP, DHCP, and NAT
For setup, you'll need a supported Apple iOS device or Android smartphone with data connection. iOS requirements: iOS 8.0 or later, Android requirements: Android 4.3 or later (tablets included).
Price: $199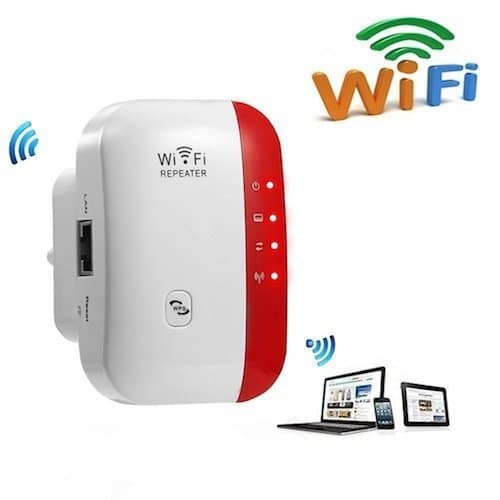 Big house? Thick walls? Huge backyard? Amake's WiFi repeater comes to the rescue with a super easy-to-install repeater-cum-access point that boosts your WiFi signal to distant dead zones. The tiny, compact and bargain-priced device offers speeds up to 300Mbps, and can be installed anywhere you have an outlet.
Key Features:
2-in-1 functionality enables repeater mode and access point mode, for both wireless and wired LAN support
Easy installation: just plug into the wall – no hub required
WPS compatibility for safe connection
Price: $25
VICTONY delivers another faster-than-average repeater, with this dual-band device and speeds up to 1200Mbps. It'll work right out of the box – it's compatible with almost any 802.11n/g/b/ac/a technology – and you'll have it installed in just a few minutes, thanks to the user-friendly installation wizard. Go on, we know you're just itching to stream some HD something.
Key Features:
Dual 2.4 GHz and 5 GHz frequencies optimize your wireless signal (5GHz for HD streaming, 2.4GHz for the rest) to boost productivity and eliminate dead spots
Two high-performance antennas deliver speeds up to 1200Mbps
Compact device is portable – take it anywhere
Price: $53
It's rare that you get everything you want, but NETGEAR makes a valiant effort with its PowerLINE WiFi extender. Just plug the Powerline 1000 Essentials Edition in where it's needed, and Homeplug AV2 support tech will send a strong, super-fast (up to 1Gbps!) signal blazing through your home or office.
Key Features:
Uses your existing electrical wiring to deliver blazing fast speeds up to 1000Mbps (1Gbps) – perfect for 4K HD streaming and lag-free gaming
Tap into your electrical lines for fast connections
Build your coverage area by connecting multiple adapters
Price: $109
Yeeeessss. Who doesn't love a combo device? TP Link's AC750 offers a combination WiFi range extender and smart plug, meaning once it's installed, you can not only use your smartphone in your previously-dead-zone backyard, but you can also use your now-connected smartphone from the backyard, to turn off the light that's connected to your new smart plug. Win!
Key Features:
Dual-band WiFi delivers speeds up to 300Mbps on 2.4GHz + 433Mbps on 5GHz
Integrated smart plug (connects to the Kasa app) delivers up to 15A of power to connected devices
Voice control available via Amazon Alexa and Google Assistant
Price: $22
Leave it to Internet-giant Google to create a router-replacing WiFi system that works. Billed as attic-to-basement technology, this handy device delivers fast signal to every nook and cranny of your home. What's more, it has other awesome features, like family WiFi controls that allow you to see what devices are connected, prioritize devices, and even pause your kids' internet usage when it's time for dinner. Let the whining commence!
Key Features:
Replaces your current router to integrate with your modem, eliminating WiFi dead zones and slow spots
Built-in Network Assist technology selects the clearest channel and fastest band, so you're always on the fastest connection possible
Use 1 WiFi point for a 500-1,500 square-foot home, 2 for 1500-3000 square-feet, and 3 for 3000-4500 square-feet.
Price: $240

This Rock Space WiFi extender offers combined wired and wireless connections, making it ideal for both home and small office environments. What's more, it's as easy to install as plugging it into an existing outlet, setting up, and switching on. We like that this little device offers easy wireless security encryption with WPS.
Key Features:
Offers wireless speeds up to 300Mbps
Simple installation with the easy setup wizard
Compact, plug-in design can fit into even the tightest squeeze
Price: $45.99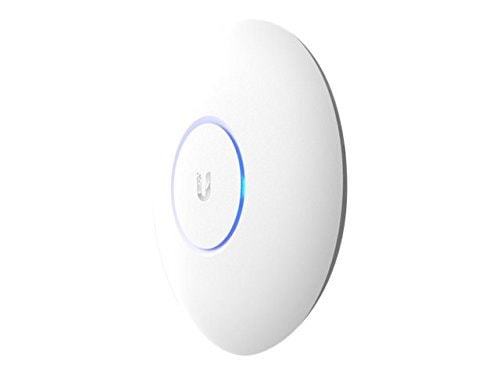 When you need maximum performance, even outside, the Ubiquiti Networks Unifi Access Point delivers with weatherproof design and fast speeds. This sweet little access point is most likely compatible with your existing network tech, but also works in high-tech extras like 3×3 MIMO technology and dual-band antennas (in triplicate!) to deliver the fastest, strongest signal possible.
Key Features:
Uses 3 dual-band antennas of 3 dBi each, to deliver the strongest signal throughout your home
11 a/b/g/n/ac tech works with your existing network
power consumption of just 9W
Price: $135.22
This handy, portable WiFi repeater acts as a combo wired-wireless network connection device, allowing you either to create your own hotspot or simply boost the signal of an existing network. It's perfect for taking on-the-go, but is also a great add-on to your home network, effectively and easily eliminating any wireless dead zones in your home.
Key Features:
Compatible with 802.11b/g/n and 2.4GHz Wi-Fi devices
Extend your wireless range with speeds up to 300Mbps
Wall-plug device is enabled with one-touch wireless security encryption via WPS
Price: $17
This range extender packs a big punch, rolling 300Mbps speeds, wireless security, and encryption into one nano-sized, portable device. Indeed, this offering from Wavlink complies with IEEE802.11b/g/n tech, enables encryption via WPS, and supports both 64/128 bit WEP and WPA/WPA2 wireless security, but is also compact, easy to carry, and needs only an outlet to use anywhere.
Key Features:
300Mbps speeds, with wireless security and encryption options
Amplify any WiFi signal, anywhere you can find an outlet
Easy installation via the simple setup wizard
Price: $25
This addition to our list comes from dodocool, and allows you to boost your home WiFi signal with just a small device and an electrical outlet. Choose from enabling this as a signal repeater/range extender, or turn it to access point (AP) mode to turn your wired network wireless.
Key Features:
4Ghz network compatible with any 802.11 b/g/n routers, offering wireless streaming up to 300Mbps
Dual, external antennas deliver better coverage and higher speed, for stable, uninterrupted WiFi
Find the best installation spot, thanks to LED signal strength indicators
Price: $20
This wireless range extender from Ameky offers five working modes: wireless router, repeater, access point, client, and bridge, so you can choose whatever's best for the situation and moment. Versatile and powerful, this little device may be the biggest bang for your buck on our list.
Key Features:
Compatible with your 802.11 b/g/n wireless router, on 2.4GHz frequency band
Fast speeds up to 300 Mbps, with wireless security via WEP, WPA, WPA2, WPA Mixed, and WPS
Can mount on the wall, a stand, or your desktop
Price: $26.99
This Ubiquiti wireless access point is a pretty sweet little device, capable of handling heavy use in multi-user areas, like an office or restaurant. It's fast, it's compatible with what you already have and, best of all, it employs self-maintaining tech to automatically troubleshoot and fix network problems.
Key Features:
11 b/g/n, 2×2 MIMO WiFi Access Point with 2 internal antennas at 3 dB each
4 Ghz 300Mbps transmission rate with openWRT
Watchdog Technology Chipset enables the system to auto-recover from problems, auto-maintain, auto-optimize, and complete an intelligent restart
Price: $140
Products You May Be Interested In: