Mesh WiFi systems are the latest and greatest way of achieving outstanding WiFi signal strength throughout your entire home or business. No more dead spots, no more having to reconnect to WiFi extenders— a mesh WiFi system will provide a seamless, scalable connection for all of your devices. If you frequently disconnect from your WiFi or suffer from slow speeds when moving from room to room, a mesh WiFi system is the answer to your problems.
After reviewing dozens of mesh WiFi Systems we have identified the best available for home or place of business. As we examined these mesh WiFi extenders we considered factors such as coverage area, connection speeds, and additional features in choosing our top picks. Then, we put together a rundown of many more top-quality mesh WiFi systems so that you can find the right one for your needs.
We chose the Meshforce M3 Whole Home WiFi System as our overall top pick. This system has the speed and coverage needed for nearly any size of residence, plus it is easy to install and operate. There are more powerful systems on the market, but the Meshforce M3 is more than enough for the typical home or small business.
The 5 Top-Rated Mesh WiFi Systems
*Ratings are from Amazon at the time of publication and can change
Best Mesh WiFi System Overall: Meshforce M3 Whole Home WiFi System
The Meshforce M3 Whole Home WiFi System is easy to set up and manage right out of the box. Setting up the router is simple with the help of the intuitive Mymesh app, and the satellite WiFi dots are plug-and-play. Once you have the system up and running, you'll see that it provides a strong and expansive WiFi signal from room to room. It's all connected by a single SSID, which means that you won't have to reconnect when you move your connected device from the router's range into the range of the satellites.
Whether you need WiFi to extend up to several stories of a building or across the house to your garage, you can make that happen with strategic placement of the WiFi dots. All in all, this base set can cover over 4,000 square feet of space, and additional WiFi dots can be purchased separately if you want to increase that range. Additionally, over 60 devices can be connected to the network simultaneously.
This system supports Gigabit Ethernet connections and 1200Mbps dual-band WiFi for fast-paced gaming and high-definition video streaming. By using the Mymesh app, parents can set usage parameters to control how often their children are using their online devices. A separate guest access mode can also be enabled which allows your guests to access the WiFi in a specific space without having to enter a password.
Meshforce M3 Whole Home WiFi System Key Features:
Covers 4,000+ square feet
Supports over 60 simultaneous device connections
Parental controls and guest access included
Supports Gigabit Ethernet connections
Best Tri-Band Mesh WiFi System: Amazon eero Pro Mesh WiFi System
An evolution of the first generation eero system that pioneered the mesh WiFi industry, the Amazon eero Pro Mesh WiFi System is the best available mesh-WiFi product available from eero and Amazon. This tri-band system utilizes 2.4GHz, 5.2GHz, and 5.8GHz signals for lightning-fast communication between the mesh WiFi system and all of your connected devices. It's smart sensing technology routes data over the most efficient channels for optimum performance.
The three included eero Pro Mesh devices can cover an area of over 6,000 square feet. Additional Pro Mesh devices or extender beacons can be added to increase that range even further. Each of the Pro Mesh devices, in addition to the superb WiFi, has two Gigabit Ethernet ports for WAN or LAN connectivity. This allows you to directly connect to demanding hardware or hard link each of the Pro Mesh devices for uninterruptible communications up to 550Mbps.
The simple and clean design of the eero Pro Mesh devices will blend into your home no matter which room you place them in. They're fully compatible with Alexa devices and Apple HomeKit. Setup is simple through the eero app, the world-class security will keep your WiFi secure, and the speed is everything you could ever need. User profiles can be created so that you can set usage limits and control how individuals in your home or business use your Internet.
Amazon eero Pro Mesh WiFi System Key Features:
Covers 6,000+ square feet
Works with Amazon Alexa
Works with Apple HomeKit
One-year warranty
Best Budget Mesh WiFi System: TP-Link Deco Mesh WiFi System
The TP-Link Deco Mesh WiFi System will provide a great WiFi signal all throughout a large home, yet it is more affordable than most mesh WiFi systems on the market. As a complete unit, it offers nearly the same speed and functionality as our top overall pick, but its low price makes it an incredible value. You'll receive the primary router and two convenient wall plug-in satellite nodes to place around your home. More range extenders are available to purchase as well.
Built with dual-band WiFi network capabilities, Amazona Alexa compatibility, and dual Gigabit Ethernet ports, the TP-Link Deco is able to compete with premium mesh WiFi systems. It has the capability and feature set that most people need. The Deco app will walk you through the installation process, and it'll serve as your gateway to the network's customizable features like the built-in parental controls and user profile tools.
It even has advanced technologies embedded into its design. Adaptive path selection automatically locates the best connection on the dual-band network for every device so that it all operates efficiently, and the self-healing ability reroutes data traffic if one of the satellites loses power. All in all, this is an impressive system at a great price.
TP-Link Deco Mesh WiFi System Key Features:
Covers 4,500+ square feet
Compact wall plug-in satellites
Works with Amazon Alexa
Dual Gigabit Ethernet ports
Best Mesh WiFi System for Google Smart Homes: Google Mesh WiFi System
While there are other devices on our list that will work well in a Google Smart Home, none will integrate as seamlessly as the Google Mesh WiFi System. This system comes straight from the source and can be controlled by the Google Home app. The app will help you install the device and then give you command over its customizable features. Google will provide free security updates behind the scenes to keep your WiFi protected.
As a mesh WiFi system, this is a top-tier dual-band system with excellent speed and reliability. The coverage is great, too. This package comes with three Google WiFi routers, and it is completely scalable, allowing you to add many more Google WiFi routers as needed to fully cover large properties. Each additional router provides an extra 1500 square feet of coverage. Every router comes fitted with dual Gigabit Ethernet ports.
You'll have the option to create user profiles and adjust parental controls as needed such as screen time limits and explicit content blockers. Guest network access can be added or removed at any time.
Google Mesh WiFi System Key Features:
Covers 4,500+ square feet
Works with the Google Home app and other devices
Automatic security updates from Google
Made from recycled materials
Best Mesh WiFi System for Businesses: NETGEAR Orbi Ultra Mesh WiFi System
The NETGEAR Orbi Ultra Mesh WiFi System is downright fast. As packaged, the system can transmit up to 6Gbps of data across the system at over 7,500 square feet of space. That's well above and beyond the needs of most large homes and small businesses, but the kicker that this system is entirely scalable, increasing its range by another 2,500 square feet with each added Orbi Ultra satellite.
Streaming multiple live High-definition videos feeds at once won't be an issue for this stout system. Though the tri-band WiFi is absolutely stellar, each device is equipped with four Gigabit Ethernet ports to provide all of your most demanding and important devices with uninterrupted, completely consistent Internet feeds at all times. It's the best of both worlds and absolutely essential for a business with high Internet demands.
This is all easily set up and managed via the Orbi app. Within the app, you can create a guest portal with its own landing page so that visitors can access your WiFi when you allow it. The WiFi system comes loaded with security protections including NETGEAR Armor which is a multi-layered security software featuring anti-virus, anti-malware, and data theft protection. Speed, security, and the ability to scale are the three most important aspects of a business's Internet network, and this system is a top choice for all three.
NETGEAR Orbi Ultra Mesh WiFi System Key Features:
Covers 7,500+ square feet
Tri-band WiFi 6 network system
Can connect to over 60 devices simultaneously
One 2.5Gbps Ethernet port and 4 LAN ports per satellite device
Who Should Buy A Mesh WiFi System
Mesh WiFi systems are the best way to cover your home or place of business in a reliable and fast WiFi signal. For homeowners, a mesh WiFi system provides the coverage and signal strength you need to get WiFi into every nook and cranny of your house. This is important in the modern age where every phone, laptop, and TV requires an Internet connection. It's also vital for WiFi-enabled home security systems and smart home devices.
The same can be said to business owners. Mesh WiFi Systems are scalable. It is possible to add a number of additional satellite nodes to further extend the signal's reach so that you can grow your network as your business grows. The best mesh WiFi Systems can handle hundreds of simultaneous device connections, and they can transmit data at incredible speeds.
Important Features to Consider
There are a few important considerations to think through before purchasing a mesh WiFi system.
Coverage. Mesh WiFi systems are the best tool for blanketing your entire home or business in a reliable WiFi network. You will want to make sure to purchase a mesh WiFi system that is capable of covering the entire square footage of your space. Many systems come with enough range for the average household and small office spaces, but some are much more powerful. Additionally, many mesh WiFi systems allow you to add more satellite nodes as needed to extend the range.
Number of included nodes. Following up on the topic of satellite nodes, it is best to know how many the mesh WiFi system you buy is supplied with. Some include nothing more than the router, leaving you to separately purchase as many nodes as you will need.
Speed and bands. All mesh WiFi systems are either dual-band or tri-band systems. By nature of their design, tri-band systems are faster and more efficient than dual-band systems. Both types use 2.4Ghz and 5Ghz bands for communicating with devices. These two bands also serve as communication between the router and its satellite nodes. Tri-band systems introduce a third radio frequency that is dedicated to communication between the router and nodes, freeing up the other two bands for all other devices to use. In general, each individual mesh WiFi system product will have its own communication speed, but tri-bands will always be more efficient by the nature of their design.
Ports and backhaul. The communication speed between devices is what you will notice most when operating multiple computers, smartphones, and smart TVs all at once. Different mesh WiFi systems will include various ports on their primary router and satellite nodes. A direct connection via an Ethernet cord or USB will be faster and more reliable than WiFi. If you need impeccable signal reliability, or you want your devices to perform at their absolute top speed, you'll want a mesh WiFi system with multiple ports at each node so that you can hardwire your most demanding devices.
Extra features. Like traditional routers, mesh Wifi routers each have their own unique extra features to try and entice buyers. Parental controls, guest access modes, and heighten cybersecurity protection are common to see. You'll also find that some of these devices have better smartphone apps than others. If you have a smart home, you'll also want to keep an eye out for which mesh WiFi systems can communicate with Alexa, Google, Siri, or Cortana.
Frequently Asked Questions
What is a mesh WiFi system?
Mesh WiFi systems are multi-component systems that are designed to cover large spaces with strong WiFi signals. These mesh WiFi systems feature a main router and a number of satellite nodes that work together to provide a consistent WiFi network throughout your home or office. This creates a seamless signal without dead spots or weak signal areas.
Is mesh WiFi better than an extender?
Mesh WiFi is more convenient, reliable, and powerful than WiFi extenders. When using a WiFi extender, the device is repeating the signal of the original router and it will show up on a WiFi list as a second source of WiFi. Mesh WiFi, on the other hand, emits the same WiFi signal seamlessly from every satellite node and thus does not create separate WiFi signals. With extenders, you will need to reconnect to the Internet each time you move in or out of the extender's space. That's not the case with mesh WiFi.
Will mesh WiFi improve network speed?
Mesh WiFi provides a consistent, even speed wherever the network is present. Extenders, on the other hand, will have fading signals that get weaker the more you distance yourself from the primary router. So, in general, mesh WiFi will improve network speed across large homes and offices because the signal does not weaken as it travels to distant satellite nodes. A new mesh WiFi system can also improve your network speed if your aging router is unable to keep up with your supplied Internet speed.
Does mesh WiFi replace the router?
Yes, a new mesh WiFi system will replace your old router. You can set up a mesh WiFi system to work with your existing router, but it is usually better to replace your old router with the new mesh WiFi router.
Other Mesh WiFi Systems We Reviewed
We looked at 20 other mesh WiFi systems. Even though they didn't make our five best mesh WiFi system list, they're the best of the rest and each is still a great option for ensuring a powerful and reliable WiFi signal throughout your home or workspace. The information you'll need to compare each one is included with the listing.
Dual-Band Mesh WiFi Systems
The Amazon eero Mesh WiFi System quite similar to our top choice for a tri-band mesh WiFi system, but much less expensive. This dual-band version is plenty capable for most households, and it still stands as one of the best systems on the market.
Key Features:
Covers 5,000+ square feet
Works with Amazon Alexa
One-year warranty
Cost: $250
Eliminate dead zones in your home with the AmpliFi WiFi System. The primary router features for Gigabit Ethernet ports, and the two mesh signal extenders plug directly into wall outlets so that you can conveniently place them wherever you'd like.
Key Features:
Covers 10,000+ square feet
Peripheral mesh points plug directly into wall outlets
Mobile app for Android and iOS devices
Cost: $475
The Google Nest WiFi Router is a great choice for homes or businesses, especially those that already use Google and Nest products. It is completely scalable, meaning that you can add many more routers for increased coverage.
Key Features:
Covers 4,400+ square feet
Can handle up to 200 device connections
Integrates with Google Home and works behind the scenes
Cost: $300
Loaded with advanced security systems and a full-featured parental control platform, the GRYPHOn GUARDIAN is a top choice for parents who want to control their children's online activities and screentime.
Key Features:
Covers 5,000+ square feet
Built-in parental control features
One-year warranty
Cost: $220
Designed to be inconspicuous, the Merku Hive Router is both small and quiet. The primary router has been fitted with noise-reducing components, and each of the "Bee" mesh points is small enough to plug into a single wall outlet without blocking the adjacent outlet.
Key Features:
Covers 5,000+ square feet
"Bee" nodes are small and plug directly into outlets
Internal noise reduction hardware
Cost: $200
The NETGEAR Nighthawk is a fine choice for the average home. This unit utilized WiFi 6, which is the latest in WiFi technology. It also allows for guests to securely access your WiFi network without you having to share your password with each new person who visits your home.
Key Features:
Covers 3,000+ square feet
Can connect up to 25 devices
Allows for guest network access
Cost: $180
By prioritizing WiFi access speeds with the first beacon, the Nokia WiFi Beacon delivers top-notch WiFi speeds to all of your household devices. Homes under 1,500 square feet can opt for only a single beacon at a less expensive price and still receive all of the benefits of the full system.
Key Features:
Covers 4,500+ square feet
Has parental controls and guest access
Controllable via the Nokia WiFi app
Tri-Band Mesh WiFi Systems
Featuring insanely fast transmission speeds and commercial-grade cybersecurity, the ASUS RT Mesh Kit is ideal for households that want to go above and beyond for a max performance Internet connection.
Key Features:
Covers 4,000+ square feet
Utilizes WiFi 6 with 802.11Ax
Lifetime Aiprotection Security
Cost: $400
Ultra-fast and reliable, the ASUS ZenWifi is much like the aforementioned ASUS product, but with a more conservative design and more powerful reach. Lifetime updates and cybersecurity are included.
Key Features:
Covers 5,500+ square feet
Utilizes WiFi 6 with 6.6Gbps
Lifetime Aiprotection Security
Cost: $450
GRYPHON Smart Mesh WiFi System
The GRYPHON Smart Mesh WiFi System is an award-winning WiFi setup for its parent controls, family safety features, and privacy protection. It comes with many security features standard, and it comes with a 12-month subscription to GRYPHON's Advanced Internet Protection services.
Key Features:
Covers 6,000+ square feet
Adblocker and 12-month free upgraded security protection
3Gbps output
Cost: $400
Impressively powerful, the Motorola Mesh WiFi System is a cost-efficient tri-band WiFi system for large homes with a myriad of electronic devices. It's intelligent traffic control automatically swaps signals and sources to find the fastest connection for each device that connects to it.
Key Features:
Covers 9,000+ square feet
Two satellite mesh points included
Intelligent traffic control
Cost: $230
The NETGEAR Orbi Compact proves that big things can come in small packages. This is a fast and unobtrusive mush WiFi system that is ideal for small to medium-sized homes. More satellites can be purchased if necessary.
Key Features:
Covers 3,500+ square feet
2.2Gbps top speed
One wall outlet satellite included
Cost: $200
Wired or wireless, the TaoTronics Mesh WiFi Router is a top choice for busy homes and small businesses. If you want top speeds, each router device features a Gigabit Ethernet port and a USB 3.0 port for hardwired, unflappable connections.
Key Features:
Covers 5,000+ square feet
Can connect to up to 200 devices
4 Gigabit Ethernet wired connection available
Cost: $240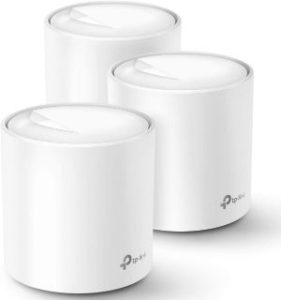 Loaded with the latest WiFi tech, powerful enough to connect to over 150 devices at once, and fully compatible with Amazon Alexa, the TP-Link Mesh WiFi 6 System is an excellent choice for medium to large-sized homes, especially those with Alexa smart home systems.
Key Features:
Covers 5,800+ square feet
Utilizes WiFi 6 Ax1800
Works with Amazon Alexa
Mesh WiFi Systems for Businesses
The Cisco Business Starter Kit provides a fully-functional mesh WiFi system that acts as the foundation for whatever size you wish for it to become. It's fast and easy to set up, and up to 25 satellite access points can be added to accommodate your growing business.
Key Features:
Covers 3,000+ square feet
Up to 25 additional access points can be added
Lifetime warranty
Cost: $350
Fitted with WiFi 6 technology that'll provide reliable and fast Internet speeds for 4k streaming and more, the Linksys Velop Mesh Router is great for small businesses. You can install it and control it via the Linksys app and connect it to your existing modem.
Key Features:
Covers 3,000+ square feet
Can connect to over 50 devices at once
Three-year warranty
Cost: $700
The NETGEAR Orbi Pro WiFi System will provide seamless roaming for all connected devices across your entire business. It can convert an impressive 12,500 square feet as is and has room to expand. The customizable guest portal enables you to build a convenient way for customers to access your WiFi, while being aware of your Internet rules.
Key Features:
Covers 12,500+ square feet
One-year free subscription to Insight Cloud Management
Customizable guest portal
Budget WiFi Mesh Systems
The Meshforece M1 Mesh WiFi System is the budget-friendly version of our top overall pick. This unit features the same user-friendly app design and reliable connection speeds as our top pick.
Key Features:
Covers 4,500+ square feet
Up to 6 mesh points can be configured
Parental and guest access controls
Cost: $110
Sleek and modern, the Rockspace Home WiFi System will blend well into any contemporary home. It has a powerful single SSID connection that allows for seamless roaming all throughout your home without having to reconnect as you move into the satellite coverage areas.
Key Features:
Covers 5,380+ square feet
One SSID for seamless roaming
Can link up to 90 wireless devices
Cost: $170
A low-cost option, the Tenda Nova Mesh WiFi System works well for users who will not be connecting dozens of devices to the network at a single time. It will handle about 15 devices as well as any other WiFi system.
Key Features:
Covers 3,500+ square feet
Parental and guest access controls
Three-year warranty
Cost: $100