The 50 Top-Rated Tech Gifts and Gadgets Men Will Love
Finding the perfect electronics gifts for the man or men in your life isn't always as easy as it looks. On the other hand, you can't go wrong with tech and electronics. From smart TVs to smart home accessories, speakers, earbuds, gaming gadgets, and everything in between, it's tough to find a man who won't appreciate some sort of electronics gadget.
That's why we've curated this list of 50 top-rated electronics gifts for men. Whether you're gearing up for the holiday season or purchasing a birthday or anniversary gift, we're sure you'll find something on this list the man on your list will love – whether he's a gamer, a sports enthusiast, or a guy who simply has to have the latest tech toy. Our picks are listed below in alphabetical order for easy reference. Ratings information is based on Amazon reviews and is current at the time of this writing.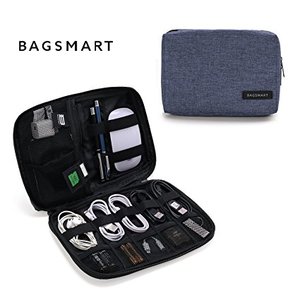 Current Rating: 4.7
One of the oldest problems that everyone faces when traveling is basic cable management. We have a lot of chargers, a lot of spare cables, and a lot of connectors that we end up carrying around with us. This little sorting bag can easily take care of this problem and ensure that cable management is no longer an issue. With a multitude of compartments and pockets, it makes managing cables, connectors and various other gadgets incredibly easy. Not to mention, it has a great design and a nice feel to it, making it a joy to use.
Key Features:
Water-repellent nylon
Two-way zipper closure
Semi-flexible covers
Cost: Est. $19.99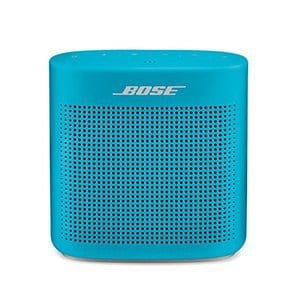 Current Rating: 4.4
Amazingly, this nifty little speaker is able to deliver rather impressive sound and quality levels through its relatively small and compact size. It is battery operated, meaning that it can be charged when not used. It's a great addition to any traveling kit or any setting that involves a lot of cordless and wireless technology. It also works well with the vast majority of smartphones, gadgets, and handhelds. Plus, it even emotes voice alerts/prompts when Bluetooth is pairing up or looking for connections.
Key Features:
Water-resistant
Eight hours of play time
Built-in mic
Cost: Est. $129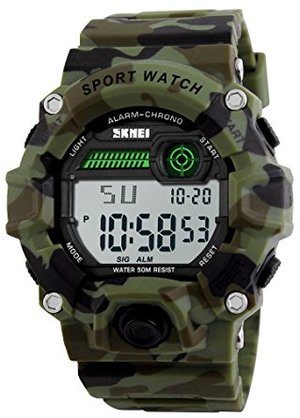 Current Rating: 4.3
While this might look like an average wristwatch, it is more or less an all-in-one chronological management tool. It incorporates multiple functions such as a watch, a stopwatch, a calendar, an alarm clock, and even backlighting to make it easy to read in the dark. It also offers a stylish presentation that goes well with both casual and sporty attire. In addition, it evokes an easy and intuitive user interface that makes it a pleasure to wear.
Key Features:
Multi-function
Large dial
Waterproof
Cost: Est. $14.99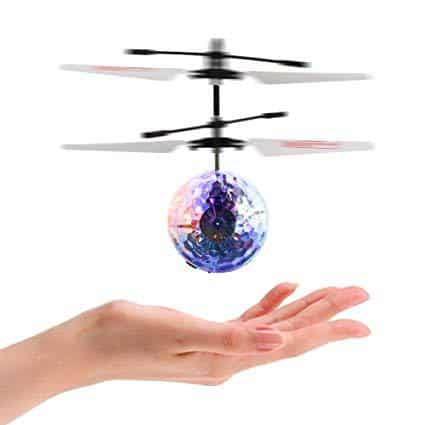 Current Rating: 4.1
The coolest thing about the Flying Ball Helicopter Light up LED RC Drone is that you can show off to your friends that you can keep it in the air, just by using your hand. That's right: the drone will lift off and land from the same spot. With four strong blades circling to keep it in the air, the machine is perfect for indoor or outdoor games and shuts off if it is involved in a collision. It also comes with a USB, but the power options are on the ball itself. The only problem you will have with this toy is how many competitions the boys are going to have.
Key Features:
LED flashing lights
Lightweight
Safe for indoor and outdoor use
Cost: Est. $10.88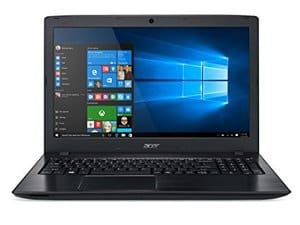 Current Rating: 3.6
Right out of the box, you will notice that this laptop is one of the more stable ones, one of the more energy efficient ones, and one that will guarantee that you will be able to get your work done, on time, without any delays. It delivers the tools you need, when you need them. It comes with an Intel Core i3 processor with 6 GB of RAM memory and a 1 TB hard drive that will make it much easier for you to get your work done and take care of your projects without any obstacles or distractions.
Key Features:
Intel HD Graphics
13.5-hour battery life
Backlit keyboard
Cost: Est. $379.99
Current Rating: 3.9
With the holiday season upon us, everyone may want to make a few upgrades. Perhaps new phones and tablets. The good news is you don't have to load up your outlets with multiple devices. No more arguing over who unplugged whose charger because their phone is more important. This simple design of the Avantree charging station consists of 4 USB ports, and it charges twice as fast. Plus, it's backed by a 2-year warranty.
Key Features:
Silicone surface
Eight-amp power output
Award-winning
Cost: Est. $24.99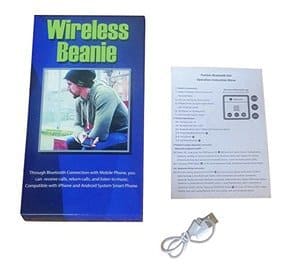 Current Rating: 4.0
This wireless Bluetooth beanie hat answers the constant question, "Do you know where my phone is?" With 18 hours of standby time and a range of 33 feet, all that is needed is this beanie hat. With the ability to answer the phone and skip music, coupled with its Bluetooth capability, you can do everything without a phone in hand. Nonetheless, you can even throw it in the laundry as long as the actual set is taken out. Who needs a phone with this all-in-one wearable tech solution?
Key Features:
User-friendly control panel
Washable
18-hour standby time
Cost: Est. $14.02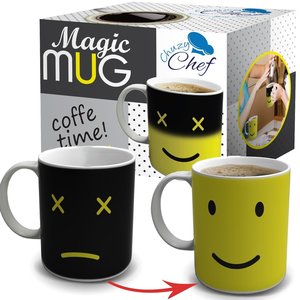 Current Rating: 3.4
This adorable heat-based, color-changing mug is an awesome gift for any man in your life. It is just a fun way to brighten his day – every day. With a cold beverage, the mug appears to be sleeping. Then, as heat is added, the black disappears making way for the cheery yellow happy face. One thing we have all experienced is sipping too-hot or too-cold coffee. The Chuzy Chef Heat changing mug tells you the temperature, just by looking at it.
Key Features:
100% customer satisfaction guaranteed
Holds up to 12 ounces
Heat-sensitive
Cost: Est. $8.45
Current Rating: 3.7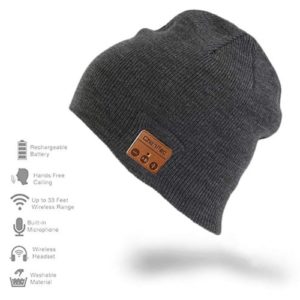 This product is the must-have of the season. Whether your son or boyfriend is a snowboarder or walks to school, this will keep his music in tune while he eats, sleeps or plays. With the earphone built directly into the beanie cap, there is no worry about being in the field or on the ice and earbuds falling out. This hat keeps his head warm and has over two full days of battery life. Now, all you need to do is create the playlist that will ensure you're always on his mind.
Key Features:
Warm
Super bass effect
60 hours of standby time
Cost: Est. $13.99
Current Rating: 4.9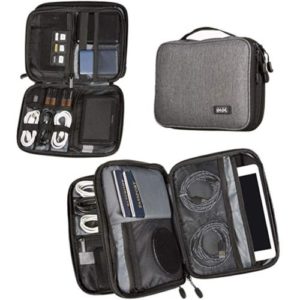 This travel tech organizer is the bag for men this season. Since it can be held in the hand, packed in a laptop bag, or stored in your suitcase, there will be no more bumps in his pants pockets due to bulky phones and gadgets. Plus, it will protect his equipment from getting wet in the rain or accidentally dropped and scratched. Not to mention, it comes with a money-back guarantee.
Key Features:
30-day money back guarantee
Flexible
Durable
Cost: Est. $21.99
Current Rating: 3.8
The future of chess is here: the Square Off Grand Kingdom Chess Set. This chess set is powered by AI technology to give you a truly unforgettable chess playing experience. Watch in amazement as pieces electronically move across the chess board. The AI technology is so intelligent that it will not only automatically adjust to your level of expertise, but also reset the pieces to starting positions at the conclusion of a game. Another unique feature of this board is that it allows you to connect with players worldwide. That means you can play a game of chess with practically anyone, from one of the 30 million players on Chess.com to your aunt on the other side of the world.
Key Features:
Automated
Connected
Adaptive AI
Cost: Est. $449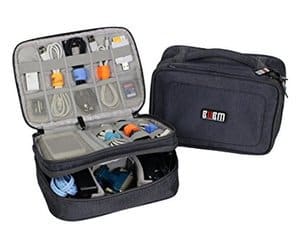 Current Rating: 4.5
With all of our devices, it's really important to stay organized – especially if you are a professional on the go. The Amatory storage bag does just that. It keeps your devices and cables in separate pockets so that you can find them easily. You no longer have to sort through the bottom on your carry on for cables, devices, and chargers. In fact, it might even feel odd being so organized. But, it will also feel quite refreshing.
Key Features:
Multiple layers
Waterproof fabric
30-day money back guarantee
Cost: Est. 19.99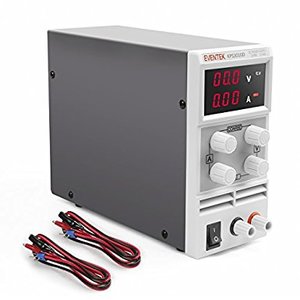 Current Rating: 4.2
There are many scenarios where the standard power supply will not cut it. For these cases, we often need a power supply unit which allows us to regulate and fine-tune the supply while at the same time keeping us safe from power surges and giving us time to react in case of a blackout. This is exactly what this power supply does, with its intuitive and easy-to use interface, it lets us adjust the power levels that it delivers until we get the values that we need. Yet, at the same time, it protects projects from electrical malfunctions.
Key Features:
Multiple protections
Intelligent temperature control
30-day money back guarantee
Cost: Est. $89.99
Current Rating: 3.9
Specifically designed to withstand some of the most brutal punishment that the weather can throw at it, this easy-to-use little bag style case can keep your phone safe while at the same time allowing full usability. It was designed to withstand dust storms, handle large volumes of water without leaking and prevent any kind of infiltration from getting to your phone. It is the best solution that you can get for those surprise storms, difficult weather conditions, and overall general problems that all smartphone users have encountered.
Key Features:
It floats
Total protection
Four sizes
Cost: Est. $6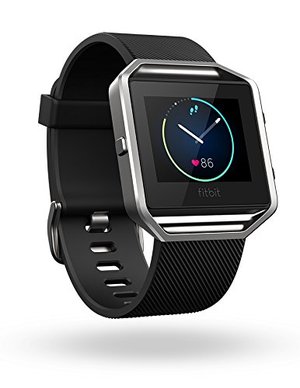 Current Rating: 3.6
This is one of the newest trends in fitness and bodybuilding but also one of the strongest, because this watch allows you to do something that very few other devices can – it tracks your heart rate and the level and intensity of your workout in addition to calculating how many calories are being burned simply by wearing it on your wrist. It is very simple to use, it acts like a simple smartphone, it is easy to recharge on its docking station and it evokes a design that goes well with any look – casual or professional.
Key Features:
Simplified heart rate zones
Connected GPS
Step-by-step instructions
Cost: Est. $178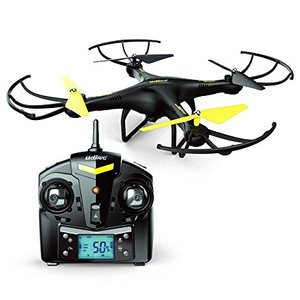 Current Rating: 4.2
Flying a drone is a hobby that has grown in popularity over the years, and many uses have been found for these little marvels of engineering. This drone, on the other hand, manages to be a more versatile alternative to the ones currently on the market. In fact, it can fulfill multiple roles without any issue. The drone comes with an HD camera, which can take high-quality pictures at high altitudes, as well as shoot video scenes in places and at angles that regular cameras simply cannot reach. If the camera is taken off of the drone, it can then take on activities that are of a bit more leisurely nature, such as racing, aeronautical stunts, and even general flying just for fun.
Key Features:
Easy for beginners
HD camera
Headless mode
Cost: Est. $79.99
Current Rating: 3.8
While this watch might come off looking like a classic wristwatch, it is actually a cleverly disguised smartwatch. Its design is more suited towards business and elegant attires, without any indication of sportiness or leisure. However, it is still capable of tracking your movements, alerts and notifies you, changes time zones automatically, and comes with a battery that can last a little longer than an average human lifetime. Make no mistake about it – this is a testament to the cleverness of the designers and engineers at Fossil. They were able to disguise a rather complicated and sporty smartwatch into a simple and elegant business retro style watch.
Key Features:
Filtered notifications
Automatically syncs to your phone
Six-month battery life
Cost: Est. $131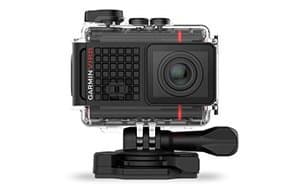 Current Rating: 3.6
There are cameras that are built to handle normal conditions and cameras that are built to handle the most extreme and hazardous conditions imaginable. The Garmin VIRB is of the latter, with a nearly bulletproof design and resistance level. With a compact frame and easy-to-use interface, it is currently the preference of adventurers, extreme sports enthusiasts, and hazardous explorers. It is also made to withstand some of the most punishing conditions on earth and can handle everything from avalanches to landslides to even being submerged in a waterproof casing at crushing depths and still take clean, clear, and stable pictures.
Key Features:
Ultra-HD video
LCD color touchscreen
Voice control
Cost: Est. $369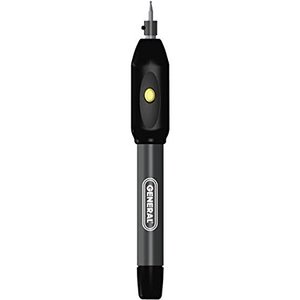 Current Rating: 3.3
This engraving tool is perfect for those special little projects, DIY presents, and customized creations. It is easy to use, durable thanks to the diamond tip, and built to be able to engrave on the vast majority of common materials that you can use. Another great advantage that it brings to the table is the fact that it is battery powered, meaning that you do not have to deal with a power cord all the time while working with it, and you can simply let it recharge when you are not using it.
Key Features:
Feels like a pen
Diamond-tip
20,000 RPM motor
Cost: Est. $16.36
Current Rating: 4.0
This is one of the most useful modern all-in-one gift ideas, because it incorporates a bit of everything that a man needs in order to handle his daily accessories and pocket space. It is a slate, set at an angle with a small collection of trays at the bottom and an assortment of grooves and holes cut into the reclined slate itself. This is to make it easier to empty your pockets, because every slot, every combination, and every groove on it can hold any kind of manly accessory. From phones to wristwatches, from lighters to sunglasses, even dog tags, spare change and wrist cuffs. You won't be disappointed.
Key Features:
8 color options
2 interlocking plywood bars
Compatible with all smartphones
Cost: Est. $29.94
Current Rating: 4.2
The Halova Travel Backpack is the must-have for college basketball and football stars and fans. With a sturdy case, separate charging locations, and many pockets, there is no way that work is going to get lost. And, what happens when something is damaged after it is bought? Don't worry! It comes with a lifetime warranty and a 100% refund for three months, and it has the support that many backpacks lack.
Key Features:
Humanized design
Breathable fabric
Built-in charging cable
Cost: Est. $19.98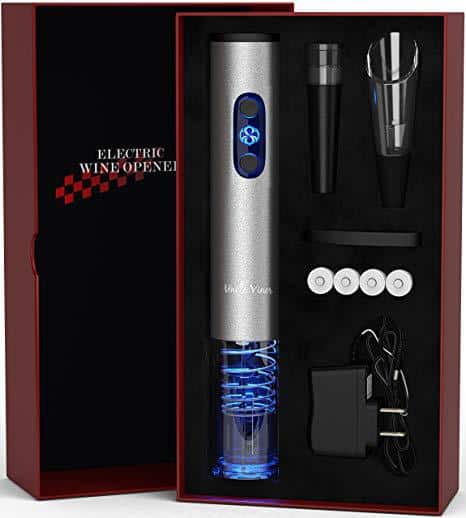 Current Rating: 4.3
This can make for one of the best gifts that you can give or one of the most efficient wine sets that you have ever owned. Thanks to the accessories, it gives you everything that you need in order to perfectly pour and treat your wine from the very beginning. No more shredded corks, no more excess, no more waste, and no more preservation issues. Just great tasting wine and all around enjoyment because you can open and pour with ease.
Key Features:
Easy to clean
Includes 4 AA batteries
Counter-top charging base
Cost: Est. $29.97
Current Rating: 3.8
For years now, Logitech has gained a reputation for being the top peripheral and add-on designer and manufacturer for PCs everywhere. With this keyboard, it is easy to see why. One of the first things that you will see immediately is the fact that it has no cord or any connectivity options for that matter. Also, it does not have any batteries or battery compartments. This is because it is a fully solar-powered keyboard, feature a couple of solar panels at the top of it. It is able to draw power from the solar light that it receives, charge up its internal power storage cells, and then offer that power for use. It even comes with several some simple-to-read indicators on it so that you can be informed of its state constantly.
Key Features:
Fully solar-powered
Easy-to-read indicators
Powerful 2.4 GHz wireless
Works with Windows-based laptops and desktop PCs
Cost: Est. $39.99
Current Rating: 3.8


The SOAIY Soothing Aurora Light projector has 8 lighting modes. This product is best suited for those late night runs of all sorts. The mix of light colors projects realistic looking aurora borealis and nebular light on ceiling or wall. It is also the perfect gift for men who come home late at night from work and just want to enjoy the light spectacle. The light comes with a remote control to help set an auto-off timer.
Key Features:
LED nightlight
Energy efficient
One year warranty
Cost: $27.99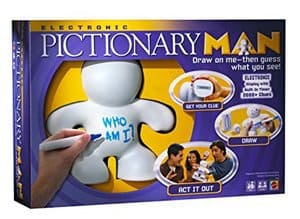 Current Rating: 3.6
This is a more interesting and more engaging take on the classic and popular social game "Pictionary." All you need to do is get the answer from under the mannequin's foot and simply draw or act out the clues on it in order for your friends and guests to figure out what the answer is. It also provides many hours of fun and can, in fact, prove to be a great imagination outlet for children that are still in their development stage.
Key Features:
Offers classic games
Play Pictionary and charades
Electronic clues
Cost: Est. $33.89
Current Rating: 4.0
Not sure what to get the family this holiday season? How about some virtual reality? This system is compatible with any phone device and simply slides into the front holder. The soft material also makes sure there is no scratching on the face or cheeks when anyone wears it for too long. It's also light, so no pulling on the neck. In addition, it has access to many 360-degree videos and can be taken literally anywhere.
Key Features:
Taste Awards 2017 honoree
Compatible with Android and iOS
Dial-input buttons
Cost: Est. $29.99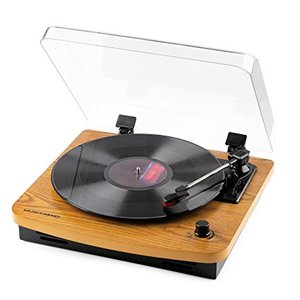 Current Rating: 3.7
Yes, it is true, this is a vinyl record player; however, it also has a bit of a twist. It is fully kitted and completely configured in order to be connected to modern entertainment setups and computers. It even has a small PC port on the back of it, which allows it to be connected directly to a PC via USB. Moreover, it comes with line-in and aux connection capabilities, making it compatible with any form of home theater or media setup that you might have. While all this s going on, it is also able provide top-notch record playing capabilities and actually excels at doing so.
Key Features:
Solid wood finishing
Two-way stereo system
12-month warranty
Cost: Est. $70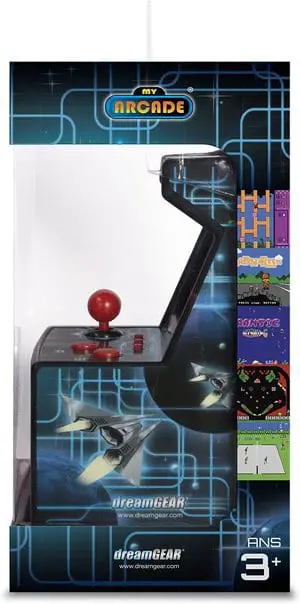 Current Rating: 3.7
This is a more modern and more compact adaptation of the arcade game machines of old; however this time, instead of requiring as much room as a file cabinet, it can neatly sit on your desk or coffee table. It features 200 of the most popular arcade games of all time. It also has the same intuitive and simple controls that arcade machines of the time used to have and can provide countless hours of entertainment. It is just like going to an old-time arcade.
Key Features:
Five-inch color display
Authentic games
Portable
Cost: Est. $12.99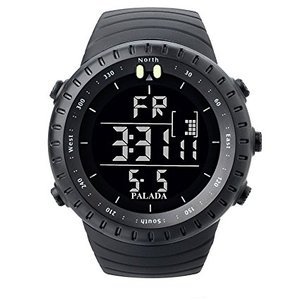 Current Rating: 3.6
Right off the bat, the first thing that you will notice regarding this watch is the fact that it has a very sleek and elegant design while at the same time having all the functions and appeal of a sports watch. This is because this watch was designed to work and match a vast majority of apparel choices, from business to casual and sporty to smart. It features military-grade housing, while the actual belt and cover are made out of softer and more comfortable materials. This makes it easy and comfortable to wear while at the same time still capable and resilient.
Key Features:
Water-resistant
LED backlight
Shock-resistant
Cost: Est. $16.99
Current Rating: 2.3
The Personal Assistance Voice Dialer is an essential for those of us worried about the men in our lives. With a backup battery, caller ID, and a range of 100-150 feet, this system is perfect for those with ongoing health issues. The best thing about this is there are also no monthly fees. That means for just one price, you get a waterproof life saver and feel safe knowing that if anything happens any one of the 30 stored numbers can be called.
Key Features:
Waterproof panic buttons
Talking caller ID
No monthly fees
Cost: Est. $109.77
Current Rating: 4.2
While some might think that this is more of a starter kit for VR game, it is, in fact, a complete kit for VR games. This bundle includes everything that you need in order to properly get into VR gaming without having to get third-party hardware software or make any compromises. The kit includes the licensed Playstation VR headset, the motion hand controllers, and the optical tracking bar, as well as a VR game to get you started. With this set, you will be whisked away to an entirely different world.
Key Features:
Plug and play
120 frames per second
Advanced VR display
Cost: Est. $349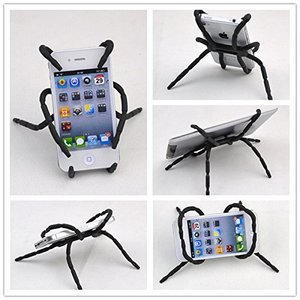 Current Rating: 4.0
The Rienar Portable Spider is the Grip Holder for everyone. Working in the shop, or out on a bike, the man in your life will love this. That's because, with its adjustable arms, it can fit not only most locations you want to attach it to but it also grips cameras, phones, or even e-readers. That means devices don't need to sit in dirt, liquid, or grime any longer. Plus, with a metal inside and rubber on the outside, your electronics with stay safe and scratch free.
Key Features:
Soft-touch rubber
Universal
Use anywhere
Cost: Est. $4.99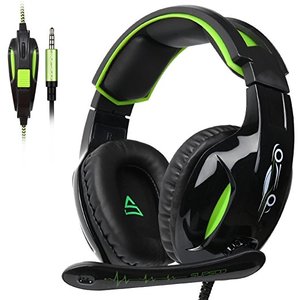 Current Rating: 3.7
With a sleek design, an elegant look, great compatibility, and clear sound features along with a powerful and clear microphone, this headset is able to take personal and multiplayer gaming to the next level. By default, this is compatible with any and all 3.5 mm audio jack connectors, making it great for both PC and console gaming; however, it still manages to bring an adapter and extender to the table. Furthermore, it can connect to older TV sets and even media stations. It is also very comfortable to wear, which makes it easy to spend hours of gaming, watching videos, or listening to music without feeling any strain on your ears.
Key Features:
Universal
Soft ear pads
Noise-isolating microphone
Cost: Est. $24.99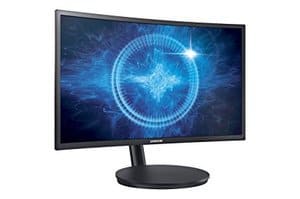 Current Rating: 3.6
What makes this monitor great – and why it is one that is very sought-after by gamers everywhere – is the fact that it features a slight curve along its screen. This offers a field of view for shooting and military games, provides a better overlay and better vision for strategy games, and gives a much more immersive experience for RPG and MMORPG games. Where a flat monitor is merely a small window into the world of gaming, curved ones are a step inside it. This is why this 27-inch curved monitor is currently one of the more popular choices for gamers everywhere, regardless of what genre, what experience level, and what dedication they might have.
Key Features:
Arena lighting
OSD dashboard menu
Dual-hinged arm
Cost: Est. $349.80
Current Rating: 4.3


This is one of the latest generation smart TVs, with a massive 65-inch LED display and 4K video resolution capabilities as well as all the tools and programs that a smart TV needs. It is capable of delivering some of the clearest and most vibrant pictures that you can imagine because of the fact that it offers a resolution that is four times greater than other forms of high definition on the market. With its sleek and thin edge frame, watching videos, movies, and enjoying everything from your favorite soap opera to the news is now a more comfortable experience overall.
Key Features:
4X the resolution of HD
160 motion rate
Ultra dynamic contrast
Cost: Est. $798
Current Rating: 3.8
The light night bedside lamp is more than just a lamp; it is an early morning wake up call, a phone service recipient, and a microphone. That means it can become a communication device in the event a phone is misplaced. It also serves as an adorable away for kids to interact with their parents at night. Plus, it comes with a remote control for use even from a distance.
Key Features:
Up to 15 hours of lighting time
Built-in mic
Cost: Est. $24.99
Current Rating: 4.0
There are many reasons why you would need to transport your data. Some of those reasons can include schoolwork, projects, personal hobbies, portfolios, company designs, prototypes, and more. While the need is there, there are quite a few solutions as well. However, none of them are as efficient and as accessible as this portable hard drive. This external hard drive is compatible with anything and everything that has a USB connection and can hold up to two terabytes of data, making it capable of transporting archives upon archives of data at the same time. Plus, it takes up no more space than a smartphone.
Key Features:
USB-powered
USB 3.0 connectivity
Quick file transfer
Cost: Est. $59.99
Current Rating: 4.3
With the rise of cybercrime and scan theft, people are looking for innovative ways to keep their finances free of hackers. This credit card holder is designed and manufactured in such a way that prevents scanning and keeps your information, as well as your bank account, safe and sound. It features a slim design that makes it easy to fit in your wallet. It also comes in a multitude of colors and shades. Plus, it gives you peace of mind where you no longer have to worry about your credit card information being stolen.
Key Features:
Rounded corners
Water-resistant
Puncture-resistant
Cost: Est. $6.49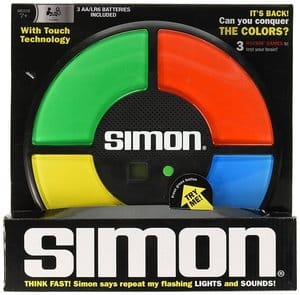 Current Rating: 4.1
If you ask your dad what his favorite game was as a kid, he might recall a dazzling memory game with bright colors. This game would light up in varying sequences requiring you to use your memory to replicate the sequence. It was called Simon Electronic Memory Game, and it's back. This year, you can surprise the man in your life with a classic game that appeals to all ages. This game includes a tracking platform that not only tracks use but can compare it to your other players, as well. Simon is an enjoyable game that will bring hours of light-hearted entertainment.
Key Features:
Multi-player modes
Updated design
LCD counter
Cost: Est. $26.95
Current Rating: 4.4
This digital sports watch can easily become the go-to for the sports fanatic in your family. The design is sleek and sporty, everything you would want in an athletic look. Yet, the band is so lightweight, the wearer will hardly notice it is on. Plus, it is waterproof allowing for fun water activities. Furthermore, you can't beat the price.
Key Features:
Smooth band
Stainless steel clasp
Indoor and outdoor wear
Cost: Est. $12.99
Current Rating: 4.2
This is is a simple character-building game. It relies on reaction time, calmness, and the ability of a player to tune his or her own reflexes to the point where they are lightning sharp. The idea is for each player to grab a handle, press the button, and wait for the suspenseful music to play. Once the music finishes, a light will shine in the middle, at which point all players have to pull the triggers on their handles as fast as possible. The last player gets a very small and very mild electrical jolt. Quite exciting, to say the least.
Key Features:
Variable shock control
Hours of fun
Normal or extreme games
Cost: Est. $34.95
Current Rating: 4.2
This is a more retro-style handheld football game that builds on the formula of modern handhelds but with a retro twist. First off, the game is, in fact, "Electronic Football," the game that was made famous and earned a small cult following in previous generations. However, this time, instead of being a cumbersome arcade-style machine or a very bulky tabletop box, it is a small and compact handheld portable game. It has the same basic and intuitive controls; it still supports one-two player modes and runs on 3 AAA batteries. Easy peasy.
Key Features:
Lightweight
Upgraded sound effects
Retro fun
Cost: Est. $11.19
Current Rating: 4.2
This box is the most novel gift you can buy for any man this year. Each time you use it, it turns itself off. Turn the switch on; it turns itself off again. There really is no end to what you can do with this box, and it can even glow in red. The Useless Box Gift comes with clear instructions and provides endless trickery and enjoyment.
Key Features:
Hours of fun
Desk novelty
Keeps your fingers busy
Cost: $40.49
Current Rating: 4.0
If you know a man with a use for a lighter, then the Tesla lighter is rechargeable lighter and a must. It is easily rechargeable for hours of lighting ability. Plus, it is flameless, making it a much safer option over traditional lighters. For a personalized touch, you can engrave the body.
Key Features:
Windproof
Durable metal body
Flameless spark
Cost: Est. $16.99
Current Rating: 3.8
This is exactly what it sounds like: a remote-controlled key finding system that comes with four different colored key chains and one remote control. When failing to find a specific set of keys, or when a family member has lost their set, simply push the button on the remote control that corresponds to that color. A sound will ring out of the respective keychain and all you have to do is follow the sound to the keys. It's simple, it's effective, it's small, it's comfortable, and it's perfect for everyone.
Key Features:
Portable
User-friendly
Ergonomic receivers
Cost: Est. $17.99
Current Rating: 3.9
This is a user-friendly and aesthetically pleasing alternative to the bulky and often cumbersome phone holders. It is literally what it says it is: a magnetic phone holder. It is easy to install; just place it on the dash of the car and stick your phone on top. While it is a magnetic holder, the magnetic values are kept so low that it will not interfere with the circuitry of the phones themselves. This means that it is completely safe to use. It also works well with all phones, regardless of make and model, as long as it has metallic components to adhere to the mount.
Key Features:
Elegant
360-degree rotation
Universal
Cost: Est. $9.99
Current Rating: 4.2
Have you ever been to a local restaurant with amazing menu boards? Maybe a man in your life has talked about a lighted sign at his friends' place. Well, the CO-Z LED Message Board is one cool board. It comes with remote controlled color options (for those fun days of goofing around), color markers, cloth wipes, and an external adapter cord. Although usually found in a restaurant or bar, this light-weight board is perfect for teachers, home signs, or offices and is easy to use right out of the box.
Key Features:
Multiple uses
16 different colors
One-year limited warranty
Cost: Est. $62.99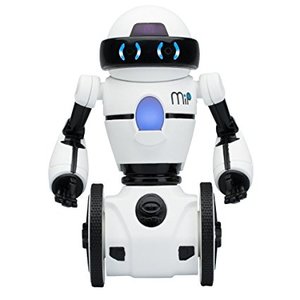 Current Rating: 3.8
This is quite an intriguing toy that is designed and manufactured to work with modern day wireless technology and A.I. protocols. It is also a portable robot that can react to gestures and changes in its environment while at the same time providing hours and hours of amusement and entertainment. It relies on sensors to detect changes around it and responds to gestures, as well as simple interactions. Using wireless connectivity, it can connect and sync up to wireless and portable devices around the house. Plus, you can use its free app to control it from any phone, tablet, or computer.
Key Features:
GestureSense
Sound detection
Free app
Cost: Est. $98.99
Current Rating: 5.0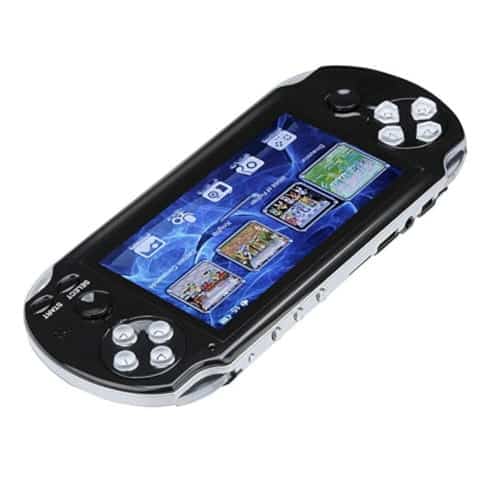 Tired of dealing with boredom on long trips or having to stand still in a confined space for long periods of time? Well, this nifty little handheld console might just be the thing that you need and want. It offers over 650 classic games plus room for extra cartridges. In addition, it delivers great fidelity and a great handheld experience, keeping the excitement up while at the same time keeping the costs down. Still, it is small enough to fit into an average pocket. And, with its user-friendly design, expect hours of gaming fun.
Key Features:
650+ games
Built-in rechargeable battery
Pocket-sized
Cost: Est. $49.99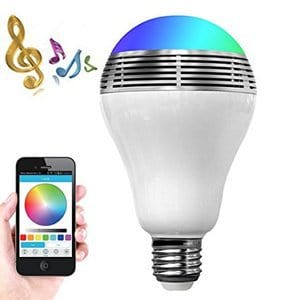 Current Rating: 3.1
Now, your gift recipient will never have another excuse for sleeping past the alarm clock. With the smart LED Bluetooth multicolored changing light system, you can control the color and the sound for that morning alarm. The low-watt light bulb acts as a real light, but offers sound and changing color options as well. It is truly customizable. On the other hand, you can download the app yourself and change the music to something a little less enjoyable for him and make sure your gift recipient gets out of bed quickly.
Key Features:
16 million supported colors
Smart functions
Compatible with Android and iOS
Cost: $25.99
There you have it, 50 options for a wonderful gift of electronics. Now, you can no longer say that you don't know what gift to buy.
Products You May Be Interested In: