Technology advances every day. While you think you have the latest and greatest today, it'll sometimes be obsolete tech in a month. As the years go on, we see these advancements change our lives in sometimes subtle and sometimes dramatic ways. The world moves on, and the modern conveniences we once thought were only in science fiction are now commonplace. You can push a button on your watch and talk to people thousands of miles away as if they were right next to you; just as they did in Star Trek in 1966.
Wearing tech devices has made our lives simpler, our health easier to control, and has improved our efficiency. We've compiled this list of the top 50 wearable tech devices, based on features, usability, functionality, and other buying considerations. Our top 50 wearable gadgets are listed below in alphabetical order for easy reference. The ratings information provided for each product is based on Amazon reviews and is current at the time of this publication.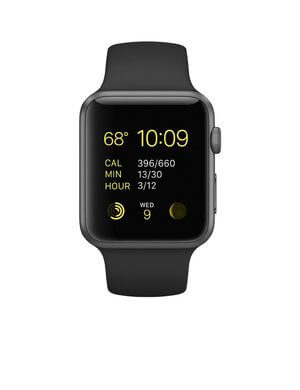 Current Rating: 4.2
Apple may just be the first name you think of when you think of smart tech, and with good reason. While it wasn't the first, it definitely did the best marketing and it's very likely the brand you've seen the most. As such, it may just have the most support in the most basic way: you probably already know an Apple guru. The phone will connect to your iPhone and display notifications, allow you to make/take calls and Siri is already integrated.
Key Features:
1.5″ display
Up to 18 hours of battery life
Direct fire speaker and microphone
Cost: Est. $280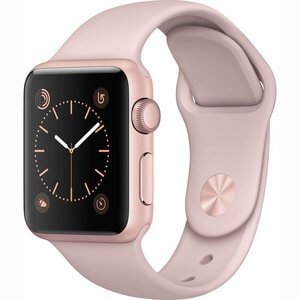 Current Rating: 4.5
While you may find other watches that do all the things your Apple watch can do, you'll likely not find a watch that works as well when paired with your iPhone. The iOS technologies talk to each other in a way you probably won't get from other devices. So if you have an iPhone, an Apple watch may be your best bet. With the use of voice to text, you can respond to texts by simply speaking and the voice recognition is pretty spot on.
Key Features:
4 color options
Activity and heart rate tracking
1.3″ display
Cost: Est. $255
Current Rating: 3.8
This watch will pair with your phone and can make your life so much easier. The battery in this smart watch can go from 0-60% charged in 15 minutes. That's an undeniably huge convenience! The screen is the first ASUS has released with a round shape rather than the more traditional square design. This does mean a bit of the size is compromised, only 1.39 inches, but the higher resolution does attempt to mitigate that.
Key Features:
Fast Charging Battery
Bluetooth and WiFi connections
Adroid wear compatible
Cost: Est. $200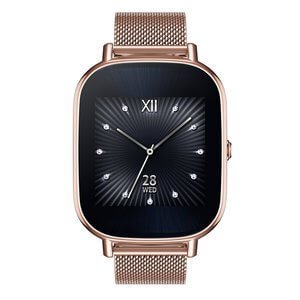 Current Rating: 4.1
This smart watch has style variety in its color options. Whether you're changing the strap or choosing the case, you have the ability to make this watch exactly what you'd like. You can even choose between the 1.45″ or the 1.63″ screen. You sacrifice the built-in speaker with the smaller model, but the more compact size may mean you'll wear it more often. It's water resistant and has corning gorilla glass so you won't need to worry about handling this watch with kid gloves.
Key Features:
Fast charging battery
Bluetooth and WiFi connections
Built in Pedometer, activity tracker and progress reports
Cost: Est. $170
Current Rating: 4.1
This little device packs a big alarm! If you ever need to travel through a dangerous part of town or if you just don't feel right about your surroundings, this little guy could really come through for you. It comes attached to a carabiner; all you have to do is pull firmly and the alarm sounds. And no one will miss that sound! It sounds approximately the same volume as a fire alarm or a police siren and that personal SOS alarm might just be enough to scare off an attacker. You can wear it on your key chain or purse – even your belt loop.
Key Features:
Lifetime warranty
Battery lasts up to 5 years
Lightweight; less than 1 ounce
Cost: Est. $10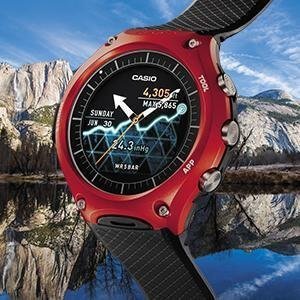 Current Rating: 3.4
This smart watch is built tough! It's water resistant up to 165 feet and it's made as a military standard-compliant tool. This means that it passes the tests created by the U.S. Department of Defense to endure dropping shocks, vibrations, and other obstacles in several different environments. Combined with its durability, it has all kinds of outdoor features that make it a must-have for your hiking adventures.
Key Features:
Compass, altitude readings
Real time notifications on changes in weather, speed, distance and atmospheric pressure
Equipped with Androidwear
Cost: Est. $390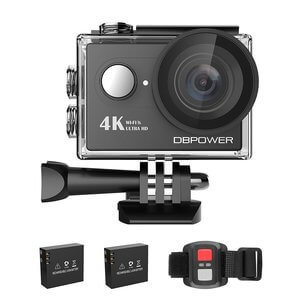 Current Rating: 4.7
This wearable camera comes with all the mounting equipment you'll need to secure it to your helmet or adventure equipment, like your bike or para sail. It even comes with a selfie stick, in case you prefer to have it more mobile. With a 170-degree radius, your shot is panoramic so you won't miss a thing. It's much more light weight than its GoPro counterpart and with its WiFi connection, you can even stream your video feed in real-time.
Key Features:
2 rechargeable batteries included
Waterproof
Wireless wristband remote
Cost: Est. $75
Current Rating: 3.9
These Bluetooth sunglasses will pair with your phone or your MP3 player to allow you to listen to music while you're busy living life. They're water resistant so you could wear them on your next biking competition, for yard work, or to just float the river enjoying your music. And should your phone ring, you simply push a button on the top of the glasses and answer it.
Key Features:
3 alternative interchangeable night vision lenses
Steady and comfortable fitting ear buds
Battery life of 5-6 hours of call time and 100 hours in standby mode
Cost: Est. $20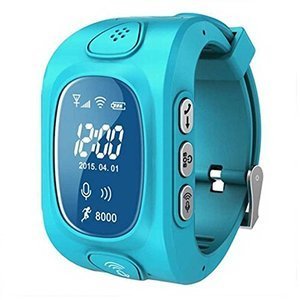 Current Rating: 3.3
When your child gets older and they start venturing out, this watch may just provide the peace of mind you need. It does require you provide and insert your own SIM card and pay a monthly service fee, but several parents find the quick fix that prevents outrageous expenses is to purchase a prepaid SIM card and make sure their children only use the phone feature for emergencies.
Key Features:
GPS tracking in real-time
SOS emergency alarm
3 color choices
Cost: Est. $40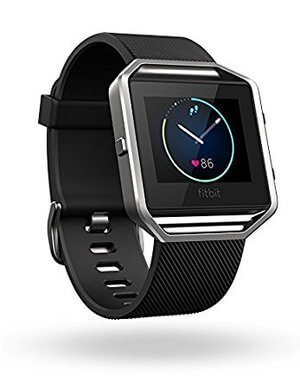 Current Rating: 4.0
This fitness watch is rated the #1 best seller on Amazon among pedometers. This watch tracks several different workouts and constantly monitors your heart rate. It automatically tracks your activity and sleep without having to manually configure it each day. When paired with your phone, it allows you to get alerts from your favorite apps like Gmail or Facebook.
Key Features:
FitStar enabled allowing you to get the most of your workout
Long battery life – up to 5 days
Gorilla glass to prevent cracking or scratching
Cost: Est. $200
Current Rating: 3.6
This fitness watch may not do as much in the way of versatility but if you're looking for a watch strictly for your workout, then you probably don't need a watch giving you your Facebook updates anyway. This watch will tell you all you need for your workout and, when paired with your phone, will still tell you when you're getting that important phone call. When you need the extra encouragement to meet a fitness goal, this is your match. Whether you're training for a marathon or you just want to make sure you get your 10,000 steps in each day, this watch can certainly help you get fit and stay fit!
Key Features:
3 color choices
Heart rate monitor
Bluetooth pairs with any computer or phone
Cost: Est. $80
Current Rating: 3.7
One of the benefits of owning a FitBit is the community. Not only are you competing against yourself, besting your own time and reaching goals you didn't know you could, but you're also joining an online community of others to compete against as well. There are leader boards for different fitness levels that you can join and try to top. This watch tracks your fitness, but you have to go online or download the app to utilize the data. That's because the watch doesn't have any readout, so you will primarily use the tracking online with your phone, tablet, and computer.
Key Features:
Battery life of up to 7 days
Water-resistant
Syncs with phone, tablet, or computers
Cost: Est. $75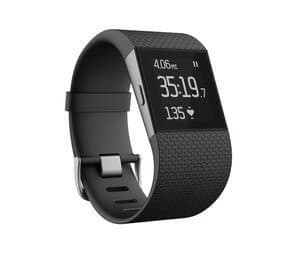 Current Rating: 3.3
This fitness watch is designed to keep you motivated and help you reach your fitness goals. It has a GPS to tell you how far you've traveled, count your steps, and plan routes for you. It connects via Bluetooth to play your music while you're working out and will notify you if you're getting a call or text. While you're wearing it for up to 7 days between charging, you can set a wake timer to vibrate and soundlessly wake you.
Key Features:
Water-resistant
Access to FitBit online community
3 color options
Cost: Est. $200
Current Rating: 5.0
Before we get into this watch's features, take a moment to appreciate the 5.0 rating. And it's not an inflated 5.0 where there are only a couple of reviews; 80 people have reviewed this watch and every single one of them rated it perfect. You'll get the alerts you want, Facebook, SMS messages, and caller ID, plus you'll get the best parts of other smart watches. Whether it's the pedometer, calories burnt, heart rate analyzer, or just the sleep monitor, this watch has you covered – for less than $25!
Key Features:
2 color choices
Charges directly into a USB plug and battery lasts for up to 5 days
Activity and drinking reminders
Cost: Est. $25
Current Rating: 4.1
This fitness watch may not have the fancy apps and large screen, but it has all you'll need in a fitness watch and then some! This watch tracks your steps, keeps track of your heart rate, and still updates you with alerts you request, including Facebook and call reminders. And ringing in at under $35, this could be the inexpensive solution for your fitness tracking needs.
Key Features:
4 color options
7-day battery life
Multi function; everything from find your phone to calorie counter to sleep monitor
Cost: Est. $35
Current Rating: 3.8
If you're opposed to a smartwatch on the grounds of change, this is a wonderful compromise. This hybrid watch looks just like any other analogue watch you've had, but it connects to your phone and tracks your movements like a smart watch. The most beautiful thing about this watch isn't even the look, which is incredibly sophisticated; it's the fact that unlike other smart watches, you will never have to charge this watch. And with the customizable link button, you can even use it to snap a photo or locate your phone.
Key Features:
Water-resistant
Hybrid battery needs no recharge
Acts like a smartwatch, looks like an analog
Cost: Est. $135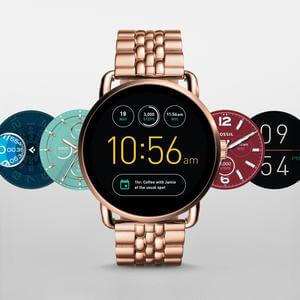 Current Rating: 3.7
This is Fossil's version of a true smart watch. Its touchscreen will allow you to easily navigate through its apps and it pairs with your iPhone or Android. It is worth mentioning, though, that it's meant to be paired with an Android device; some features, such as the talk to text, won't work on the iPhone. But with Android Wear on this watch, you'll find very little you won't be able to do.
Key Features:
Water-resistant
Stays charged one day and recharges with a magnetic conductive charger
Choose from rose gold or silver
Cost: Est. $200
Current Rating: 3.5
This watch may have a rather niche market, but if you play the game Minecraft, this is near life-changing. Not only will it give you reminders and alerts regarding your game but it also will store everything in your Minecraft folder. You will never lose the world you've spent hours building. While this is wonderful news for those of you who are Minecraft players – approximately 1 million worldwide by the way – the good news is that this is a technology that will surely expand to other games as well. The world of gaming is being advanced tremendously by this ingenious piece of wearable tech.
Key Features:
Stores a backup of game so you never lose your personal world
Plug and play: the band connects to any computer and allows you to pick up right where you left off
Customized band allows you to get updates on the LED screen of the items you choose.
Cost: Est. $30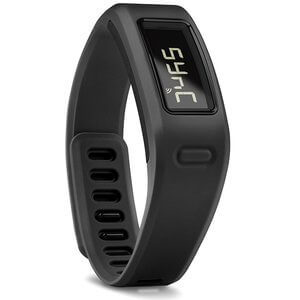 Current Rating: 3.9
This fitness band is rated Amazon's #1 best seller in running GPS units. This isn't a smart watch, per se, but when tracking your steps and mileage on your workout or biking path, it uses GPS signal for a more accurate reading. The battery isn't rechargeable, but it lasts approximately one year in constant use. This band may not have the bells and whistles of a Fitbit, but through Garmin Connect software, your Vivofit will sync with Fitbit's website. So even though you don't have a Fitbit, you'll be able to utilize what is arguably the best part of Fitbit ownership: the community.
Key Features:
3 color choices
Battery lasts 1 year before needing replaced
Continuous on screen prevents the on/off struggle
Cost: Est. $60
Current Rating: 4.0
If you're a golf enthusiast, this watch is for you. Because it's designed for outdoor use, the touch screen is readable in sunlight, immediately putting it ahead of several competitors. But it also has a "green view" button that allows you to view the true shape and size of over 30,000 pre-loaded golf courses.
Key Features:
3 color options
In GPS mode, the battery lasts up to 10 hours; in watch mode 6 weeks
Connects to your smartphone sending your watch notifications
Cost: Est. $190
Current Rating: 3.9
Have you ever wished you had a detailed GPS on your hand while you were hiking? This is the perfect watch for the outdoorsy person who needs to track their hike or trip. The 8GB internal memory allows you to store maps, and it comes with a 1-year subscription (that you'll be responsible for after the year's up, should you decide to keep it) to BirdsEye Satellite Imagery. This could be a difficult watch to learn, but once you've got the hang of it, you will find several helpful features.
Key Features:
1-year BirdsEye Satellite imagery subscription
Color touchscreen with vivid details showing the terrain
Altimeter, barometer, and compass
Cost: Est. $200
Current Rating: 4.3
This watch is currently rated #1 in Running GPS Units on Amazon. You can access your phone notifications like incoming emails, texts, and call alerts on the extra large screen. The battery life is 16 hours in training mode and up to 5 weeks in standard watch mode. Training mode will track your activity, steps, calories, and distances traveled throughout the day while sending gentle vibration reminders to get moving if you've been sedentary for too long.
Key Features:
3 color options
Downloadable apps via Connect IQ support for pretty much anything
Calendar and weather sync
Cost: Est. $200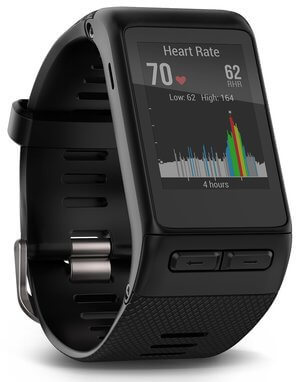 Current Rating: 3.8
Don't let the similarities in name make you think this Vivoactive is the same as the Vivofit. This watch has pulled out all the stops. Some of the features that set this watch apart are the heart rate monitor and actual GPS. The heart rate tracker records your heart rate 24/7 and allows you to view a daily report on your app or online. You'll also be able track your sleep and see the whole night classified into three different types of sleep.
Key Features:
Battery life of approx. 5 days
24/7 heartrate tracking
Smart notifications when paired with your smartphone
Cost: Est. $235
Current Rating: 3.9
This watch may not have the display screen of its sister tech, the Vivoactive, but at nearly one-third of the price, you may find it still meets all your needs without compromising. This activity tracker still tracks your calories burnt and your steps while monitoring your sleep and giving you not-so-subtle reminders to get moving.
Key Features:
5 color choices
1-year battery life
Backlit for always-on display
Cost: Est. $80
Current Rating: 3.8
This watch is like your Vivofit but with a few kid-specific apps. Our favorite is the Chore reminder, which allows you to set rewards for each task. Washing the dishes, 25 coins; putting the laundry away, 10 coins. Once your kiddo gets to 100 coins, you might choose to reward them with an allowance. This watch may just motivate your child to do his chores – and that's priceless. You can compete with your kids in family challenges and control their watch apps directly from your phone.
Key Features:
1-year battery life
Water-resistant
Tracks steps, sleep, and active minutes
Cost: Est. $70
Current Rating: 3.2
These sunglasses are full of hidden gems. You have the option of 3 different sized SD cards, or you can purchase it without a SIM and use your own. It's not Bluetooth-capable, though, so you will need to use an SD card in order to utilize this tech marvel. Once your SD card is loaded, though, enjoy your tunes at your leisure while protecting your eyes. Or, enjoy the video recording while keeping your hands free.
Key Features:
Built-in digital camera
Crisp video and quality microphone
Rechargeable battery lasts for 5 hours of recording
Cost: Est. $40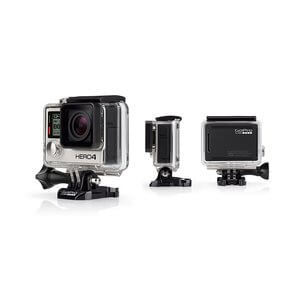 Current Rating: 4.3
This is the name you most likely recognize for body-mounted video cameras, so it's probably no surprise to you that it's rated #1 on Amazon. This camera comes equipped with Protune and Superview; both add to the film quality allowing GoPro to boast a cinema-grade capture. This camera films up to 30 frames per second making the slow-motion capabilities phenomenal. And with Night Photo and Night Lapse modes, you can even customize and record your nighttime adventures.
Key Features:
Built-in WiFi and Bluetooth
Auto low-light mode
QuikCapture turns GoPro into a one-button camera
Cost: Est. $270
Current Rating: 4.3
If other watches are technological advancements, this is the luxury version of them. The band is genuine leather, stainless steel, or gold, and the watch face is covered with a sapphire crystal glass which makes scratches much less likely. You can take and make calls, get notifications displayed on your screen, and track your fitness with heart rate monitoring.
Key Features:
10 color/strap combination choices
Battery life of 1-2 days always on; 3 days with tilt-to-wake screen
Pairs with Android or iPhone
Cost: Est. $300
Current Rating: 4.3
This is a safety device that you'll want all your loved ones to have. You wear it on your belt loop, clip it on your purse or wear on your key chain. One click allows those you've pre-selected and who've downloaded the app to know you're home safely. Two clicks puts your family on yellow alert; asking them for help. Three clicks is the emergency setting that tells your loved ones to immediately contact 911.
Key Features:
Water resistant
No monthly fees
3 click settings for different levels of alert
Cost: Est. $80
Current Rating: 5
This smartwatch will let you keep track of your kid without the responsibility of a phone. You'll need a SIM card to operate it, but once you have it installed, you can set the phone up to call pre-programmed phone numbers and send an SOS call for help. It has a camera and voice chat that allows your child to chat with other kids that have the same watch. It is GPS-enabled so you can always see where your child is, and it even has a monitoring mode that allows you to discretely listen in to your child's day. You can pick up a compatible SIM card here.
Key Features:
2 color options
Up to 10 phone contacts
School mode limits the ability of the phone to prevent distractions
Cost: Est. $35
Current Rating: 4.1
Your little one has seen you with your watch and thinks it's amazing. If they're too young to branch out even a little, this is the watch for them. It has no GPS tracking or call features, but it's a fun little watch for them to wear just like you! It has games geared to keep your child active and to foster a healthy lifestyle. Plus, it has a pet for them to take care of – like the key chain pets you may have had as a child. This is recommended for ages 4-7.
Key Features:
50 active challenges and 8 customizable pets
Analog/digital watch to help teach time
Water-resistant; rechargeable battery
Cost: Est. $40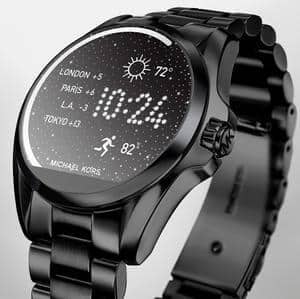 Current Rating: 3.5
With its customized watch faces and touch screen, this smartwatch is essentially a transformer watch. Its face can look convincingly normal; just like an analog watch one minute, and the next it's displaying your text messages. Finding the Michael Kors name on a smart watch may seem surprising, especially seeing its sleek design, but this watch has nailed both fashion and functionality. It will connect with your Android or iPhone but is powered by Android Wear so you may see a few more conveniences with the Android.
Key Features:
Battery life of 3-4 days
Water-resistant
Fitness apps track steps, distance, and calories
Cost: Est. $350
Current Rating: 3.4
If you have a loved one whom you worry about, this watch may be the solution for you. You will need a monthly subscription for it, but it's essentially a life alert that another user can control as well. Among those whom the watch is designed to help are those with Alzheimer's or autism, people with disabilities, lone workers, older adults, or children. It uses GPS technology, so even if your parent with dementia gets lost, you will be able to find him.
Key Features:
Listen-in mode to hear surroundings
Comes with its own SIM card
One-year limited warranty
Cost: Est. $130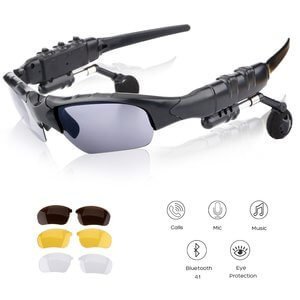 Current Rating: 3.8
With these sunglasses, you're sure to be hands-free. You can listen to your music via your Bluetooth device or answer a call with just a push of a button. Don't want to answer at that moment? No problem, because this device allows you to reject calls, too. This package comes with three different shades of lenses for any possible scenario, be it daytime, night, or even just windy.
Key Features:
3 different lenses included
Lightweight and comfortable
Compatible with most Bluetooth-enabled devices
Cost: Est. $20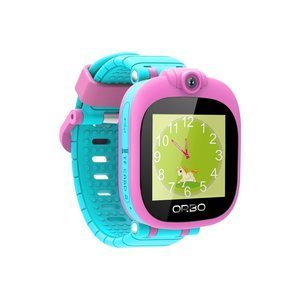 Current Rating: 4.1
This kids' smart watch is somewhere between a big kid's and a little kid's watch. It doesn't have its own phone capabilities, but via Bluetooth it can connect to your phone and receive calls if it's within range. It has educational games teaching a child to tell time and an activity motivator that will count his steps. It has alarm clocks and stop watches that make it perfect for potty training, and its touch screen will, to your child, make it seem just like your watch.
Key Features:
2 color choices
1GB memory included
Built-in camera
Cost: Est. $45
Current Rating: 4.8
If we're going to include kids' tech on this list, then we also have to include this for the baby. This wearable tech allows you to sleep soundly as a new parent by alerting you if anything is going wrong with your newborn. How did panicked parents survive before this beautiful technology advancement? From an app on your phone, you can monitor your baby's heart rate and oxygen levels closely without ever disturbing him.
Key Features:
Battery lasts up to 18 hours – much longer than your newborn will sleep!
Lullaby alarm goes off should sock be removed or oxygen and heart rate numbers dip
3 fabric socks that fit babies up to 18 months
Cost: Est. $300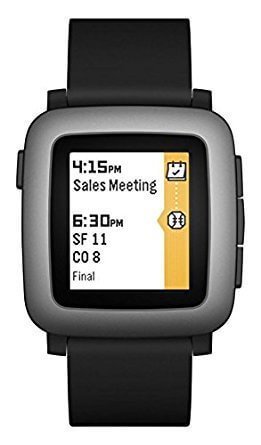 Current Rating: 4.1
This watch is rated #1 in Men's Smartwatches on Amazon. With its e-paper screen you can always see what's happening, even in the brightest sunlight. This watch will give you notifications and allow you to reply to texts; it even has its own fitness app called PeppleHealth with a built-in 7-minute workout. And for around $50, it's a steal considering all it does! Bear in mind that it isn't for making phone calls, though. As long as that's not your goal with a smartwatch, this may be a solid choice for you.
Key Features:
3 color choices
Battery lasts up to 7 days
Voice dictation for text responses
Cost: Est. $50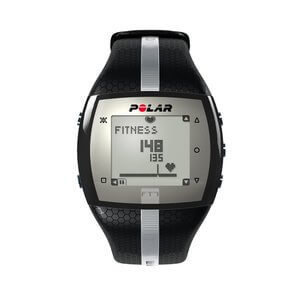 Current Rating: 4.2
This watch may be basic, but there's actually a really good chance that it will meet all your fitness needs. While monitoring your heart rate, you'll be able to read how many calories you've burned through the Smart Calorie app. And with the Energy Pointer, you'll see whether your workout is more focused on fat burning or fitness improvement.
Key Features:
Water-resistant
Connects with compatible gym equipment via Gym Link
Includes a heart rate chest strap for most accurate heart rate reading.
Cost: Est. $70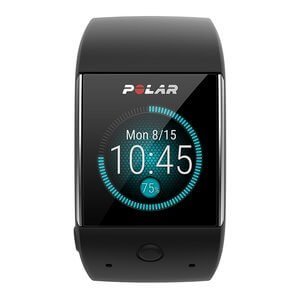 Current Rating: 3.4
This watch is equipped with all you'll need for your sporting adventures. And with 4GB of storage and Google Play music installed, you can enjoy your music while doing so. Polar's trademark Smart Coaching tracks your data and analyzes it, giving you insights into your workout so you don't have to think of anything but powering through and pushing yourself.
Key Features:
2 color choices
Waterproof
Smart-coaching enabled
Cost: Est. $300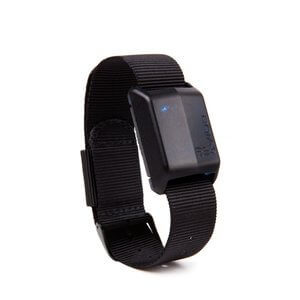 Current Rating: 3.4
This is perfect for the person who needs reminders to stay on task. It was designed by a school psychologist to help students with autism and ADHD but could easily be used for adults with focus problems as well. Strategically timed and gentle vibrations serve as silent reminders for the wearer to stay on task. The gadget even includes an algorithm to prevent users from becoming acclimated to the vibrations.
Key Features:
5 color choices
Money-back guarantee
Best for ages 6 and up
Cost: Est. $100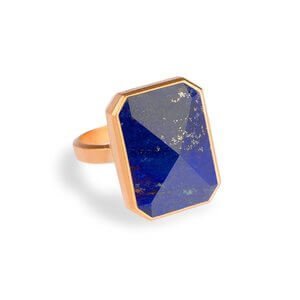 Current Rating: 4.3
You didn't just think it was smart watches, did you? With a rating of 4.3, this fashion-forward piece of tech has real staying power: a smart ring. You can get your alerts through a series of vibrations and lights. You can even choose which app gets what type of alert – choose from different colors and vibrations. This fashion-forward ring will prevent you from interrupting your day to keep checking your phone and keep you looking fab.
Key Features:
Connects with iPhone 5 and up and Android 4.3 and up
2 color options
Fitness tracker tracks steps, distance, and calories
Cost: Est. $165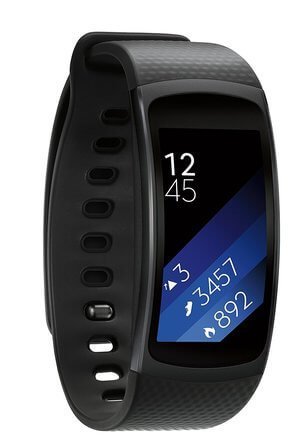 Current Rating: 3.6
This watch will help you reach your fitness goals by playing your favorite motivational music with absolute ease. Not only does it allow you to store music directly on the device, but it also will connect with your Spotify account, which means it couldn't be easier to listen to your favorite workout playlist. The watch also traces your steps, heart rate, calories burnt, and your sleep quality.
Key Features:
3 color choices
Power-saving mode if you're not going to be using the trackers
Battery last 5-6 days in power saving mode; 2-3 days with tracking enabled
Cost: Est. $145
Current Rating: 4.0
This watch will connect via WiFi or Bluetooth to almost any device. The Gear app will allow you to customize which notifications you receive, and you can receive any notification you normally receive at the top of your phone. The screen is round, unlike a lot of other smart watches, and is touch screen, adding to the convenience. When sending and receiving texts, you have three options: emoji, pre-programmed response, or voice-to-text. You can add and edit pre-programmed messages for fast replies, and the talk-to-text seems to recognize your words surprisingly well.
Key Features:
5 style choices
Battery life is approx. 2 days
Plenty of customization choices
Cost: Est. $170
Current Rating: 4.4
The screen of this smartwatch is always on, and with just a small rotation you can access your notifications and apps. You can make and receive calls and texts and even pay with your Samsung Pay account. The GPS tracks your steps and distances traveled while boasting a "military-grade" performance, meaning it's built tough! It's compatible with your iPhone and Android but works best when paired with another Samsung device.
Key Features:
Water- and dust-resistant
Customized screen for ease of viewing in darkness and direct sunlight
Built-in speakers
Cost: Est. $330
Current Rating: 3.9
This smart watch does the usual fitness tasks you'd expect, but it's designed with your peace in mind. This is a perfect little gadget to evaluate and monitor your stress levels and identify your stressors. You place it where it can monitor your breathing – in the top of your pants or in your bra, for instance – and it detects when your breathing is strained or relaxed. You can integrate the app with your calendar and locations, and it will evaluate exactly where and what is creating stress for you as well as what calms you. When your breathing indicates increased stress, it will send a gentle notification for you to attempt to stop and take a breath. Sometimes just that reminder will help you calm yourself, and living a life with less stress will minimize countless health risks.
Key Features:
Battery life of up to 7 days
Washer-proof
App provides guides for de-stressing tactics
Cost: Est. $130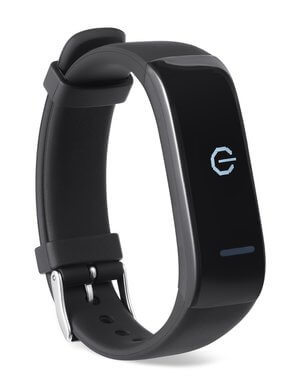 Current Rating: 3.6
This fitness band is perfect if you just want to track your health and fitness.It won't tell you when someone messages you on Facebook, but it will monitor your heart rate and your blood pressure. If these are problems you struggle with, then this watch has you covered – and for a fraction of the cost of other smart watches. It will also track your steps, calories burnt, and sleep, plus show you daily, weekly, monthly, and annual summaries of this data.
Key Features:
Real-time measurement of blood pressure
Sleep monitoring
Waterproof and dust-proof
Cost: Est. $30
Current Rating: 3.9
The days of tomorrow are here today! While this looks like a set of virtual reality goggles, this is actually just perfect for full immersion into your phone's games and movies. You can simply flip the front down and secure your phone to it, flip back up, and all you can see is your phone's screen. The outside world won't disturb your game or your 3-D movie-watching experience.
Key Features:
Remote control for convenience
Fully adjustable for the most comfortable immersion experience
Tested rigorously for optimal quality
Cost: Est. $30
Current Rating: 4.1
This device sticks to your lower back, and using sensors it tracks your spine's movements. When it detects that you're slouching, it sends gentle vibrations to remind you to correct your posture. You can download an app and get a more detailed report of your posture habits as well. The device claims that even wearing it only 15 minutes a day will re-educate your muscles to prevent slouching within 2 weeks. The less you slouch, the less likely you are to have back pain associated with poor posture.
Key Features:
Small and discreet
Upright Facebook and app community for support
Includes adhesive velcro tabs
Cost: Est. $190
Current Rating: 5.0
While these glasses have a 5.0 rating, it's based on just 6 reviews at the time of this writing, so keep that in mind. However, the capabilities of this little technological marvel make it worthy of our list. This tiny video display supports HDMI, making the picture crisp enough to read text or watch video. Based on the customer reviews and answered questions, it's ideal for flying drones and still being able to watch what's happening around you as well as the drone.
Key Features:
Compact and portable
Battery capacity of 90-minute run time
Magnetic docking station
Cost: Est. $200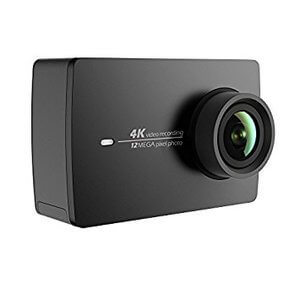 Current Rating: 4.1
This action camera has most everything you'll need to record or live stream your adventures – but at half the cost of other leading cameras. The app for this camera has wonderful reviews and is very user-friendly, as is the interface on the camera itself. The quality of film is, at worst, only marginally different than that of pricier counterparts, but most users can't seem to tell the difference at all.
Key Features:
1 battery charge lasts 2 hours
Optional waterproof case
Bluetooth and WiFi enabled
Cost: Est. $190
What wearable tech can't you live without? If you're just venturing into the world of wearable tech – or adding to your collection of wearable tech gear – one of these 50 nifty gadgets is sure to please.
Products You May Be Interested In: