After spending a half hour deleting pictures of your child's blurry feet, you may just come to the conclusion that he or she needs their own camera. Or the realization may come after seeing your child has shown a genuine interest in photography. Determining which of the two your child is closest to will help you decide which digital camera is right for you and your family.
Below you'll find the top 25 digital cameras for kids listed in alphabetical order. Ratings are based on Amazon and are current as of this publication. No matter what kind of camera you're looking for, this list has your budding photographer covered.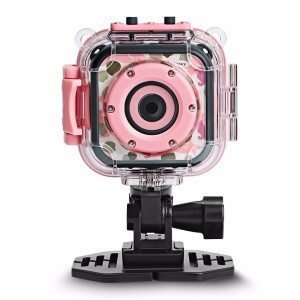 Current Rating: 5.0
If you've ever wished you could see what your child sees when they're on their adventures, this camera is for you! Once you insert your own SD card, this camera is great for your kid to take on vacation or bike rides – the possibilities are endless. And should your child also be a water bug, no worries! This camera is also waterproof up to 99 feet.
Key Features:
4 color options and rechargeable battery
1.77″ LCD display
720p video and 5 mp photos
Cost: Est. $35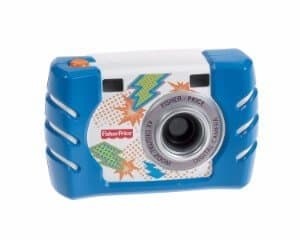 Current Rating: 4.2
The selling point for this camera is right in the name: it's built kid tough. And there are plenty of other features that will keep your kid entertained for hours. You can download software to the camera, add in special effects, and edit photos to your liking. The kid-friendly controls are easy for your little one to figure out, and the large display screen will let your child get the best photos he can capture.
Key Features:
2 color options
4 AAA batteries
1.44″ display, built-in memory to store over 2,000 photos
Cost: Est. $150
Current Rating: 4.6
This camera is unlike any other on our list. This isn't just for a child interested in photography but also the child who loves to discover how things tick. This educational camera comes in pieces so your child will have to assemble it before using it. The lithium polymer battery is rechargeable, and the company even claims you can extend the battery's life by cranking a wheel for added back-up power. Once assembled, you can rotate the lens to change the type of camera it is altogether.
Key Features:
Internal flash drive can store 120 JPEG photos
1.4″ LCD display
Regular, panoramic, and 3-d lenses
Cost: Est. $70
Current Rating: 4.0
This is perfect for the child who has started showing interest in photography very early. It is kid-strong and can take more than just a few drops. Once you upload your child's photographs onto your computer via its USB cable, you can see the world through your toddler's eyes.
Key Features:
1.5″ LCD display
16 MB of internal memory
4 AA batteries (not included)
Cost: Est. $29.99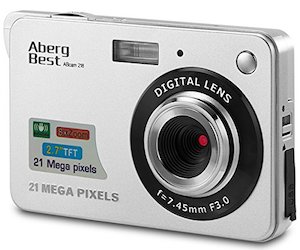 Current Rating: 3.4
This point-and-click camera has just enough features to start teaching your child the ins and outs of a camera without it being overly complicated. This is probably best suited for an early teen or a very responsible 10 year old. It has both a photograph and video mode. You'll need to purchase a separate SD card, but once you do, it's a simple set up and your child is on her way!
Key Features:
2.7″ display
21 megapixels/720p HD resolution
Rechargeable battery lasts up to 60 minutes recording straight
Cost: Est. $41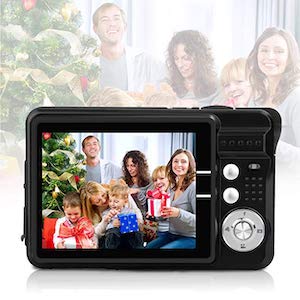 Current Rating: 3.3
This little camera is wonderful to train your older child how to use more sophisticated cameras. There are filters for your child to experiment with and it comes with software called Pho Tags Express which allows your child to enhance and manage photos on your computer as well. It's small so kids can take it with them, and if you're trying to teach your child responsibility, too, this is sophisticated enough for that as well.
Key Features:
18 megapixels
Rechargeable battery
2.7″ display
Cost: Est. $37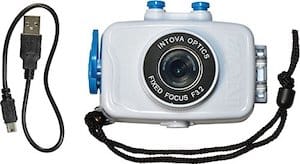 Current Rating: 3.3
This camera is dual purpose – both photo and video capturing. And with it's removable waterproof casing, it can go anywhere your kid goes. The camera has an SD card slot for storage that you will need to provide and has a burst mode for continuous shooting which ensures you get the best photo possible.
Key Features:
4 color options
1.77″ Display, rechargeable battery
720p HD video and 5 megapixel photos
Cost: Est. $33
Current Rating: 4.8
There aren't any reviews on this camera yet, but given its price and features, we thought it was definitely worth a look! Children can even use the digital camera when going to the beach or swimming pool because it's waterproof. And did we mention? It's only $55.
Key Features:
Waterproof
2 AAA batteries
1-year replacement and refund policy
Cost: Est. $55
Current Rating: 3.9
This camera is a good starter camera for your child ages 4-8 who want to capture their memories. Its protective shockproof shell, makes it durable and safe for children to use and it provides them a comfortable way to take a photo. The rechargeable battery will keep you from having to keep re-buying, and the battery life seems to impress most reviewers.
Key Features:
6 color options
8 megapixel photos
32GB SD Card
Cost: Est. $40
Current Rating: 4.4
This is the same action cam listed above, but it comes with the VTech Smartwatch which also records video and takes pictures. Your little guy or gal can even add stickers or effects to those photos directly on the watch. Plus, with this set, you can worry a bit less about having to remember the camera wherever she goes – it's attached right to her wrist. Our favorite part of this is that you can leave the action cam mounted on a bike or helmet, and for everyday photos, use the watch. Owning the watch has several other little perks, not the least of which is teaching your child how to tell time!
Key Features:
Watch and action cam included
Transfer photos and video to computer via USB cord
Mounts and waterproof case included for cam
Cost: Est. $48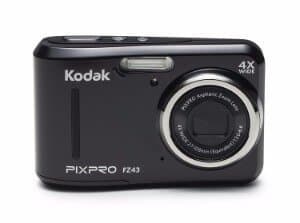 Current Rating: 3.8
This little digital camera is great for your big kid. Provide your own SD card and point and click. This camera comes with great features for your child to learn some of the finer points of photography, including red-eye removal, auto exposure, and face detection. The AA batteries mean you'll never have to stop to charge: just pick up some new batteries on the go!
Key Features:
3 color options
16 megapixel photos 720p HD resolution video
2 AA batteries
Cost: Est. $65
Current Rating: 3.5
We need to start out by saying that this is not a camera on its own. It's a case you put on your iPhone or iPod Touch that transforms it into a kid-friendly camera, meaning it will protect it a bit better from drops and usual kid roughness, but it is still your phone. But we love that it utilizes technology you already have and turns it into something for your kids. You can download the Creativity App and use your phone for editing photos and games. There are no separate battery charging or electronics to learn, just your phone. As long as you have no concerns letting your child use your phone, and would like to make it easier on them, this is the product for you. Or you could just give your child an old phone connected to only the WiFi and forget about it.
Key Features:
Photo editing/games app
Recommended ages 3-6
Use with your iPhone or iPod Touch
Cost: Est. $42.96
Current Rating: 3.8
This action cam has all kinds of surprising features. Best of all, this particular one comes in a set with all kinds of accessories that make it waterproof or mountable to your little one's bike helmet, or strapped to his arm. It is a sturdy camera, but we suggest this go to your older children or teens.
Key Features:
4 color choices
1080p HD resolution and 12 megapixel photos
1-year warranty and hassle-free return
Cost: Est. $35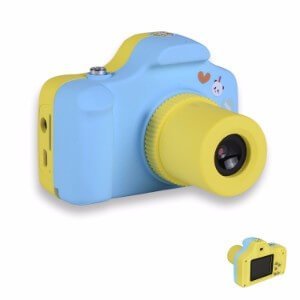 Current Rating: 4.2
They are not exaggerating when they call this camera mini; it's only 2.5″ wide, which is wonderful for your kid who needs the smallest possible option. The storage in this camera is a micro SD card and you will need to purchase that separately. This adorable camera is the smallest on our list but it's probably best suited for your biggest kids. The screen is controlled by buttons and toggles on the side and while it is relatively easy to use, it does require fine motor skills that come with age.
Key Features:
2 color choices
Comes with lanyard, USB cord, and stickers for decorating
Built-in battery; 3 hours to full charge
Cost: Est. $40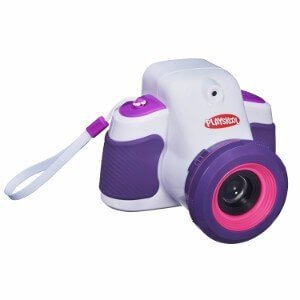 Current Rating: 3.6
This camera is a 2-in-1, both digital camera and projector. So your little guy can take his photos, use the "silly button" to customize them with stamps, sounds, and effects, and flip a lever to project his photo story onto the wall. Use your own USB cord to save, print, and email pictures.
Key Features:
4 AA batteries
"Silly Button" for 50+ added effects
Stores up to 1,000 photos
Cost: Est. $150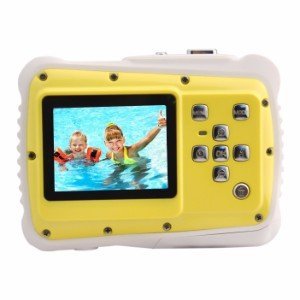 Current Rating: 4.9
This action cam is designed waterproof: there is no waterproof case which can be removed or lost. That means this camera can keep up with your kid's crazy life, even if you can't! Biking to swimming at a moment's notice? There's no calling out to remind him to switch the case on his phone. You can relax and just enjoy the photos he shows you later.
Key Features:
5 megapixel photos, 1080p HD Video
2 AAA batteries
2″ LCD display
Cost: Est. $41
Current Rating: 3.5
This sophisticated camera is one that will grow with your child. Let a responsible child start taking photographs in this camera's "easy mode" and then as time goes and they become more comfortable, they can branch out and use more of the camera's features. And this camera certainly has plenty of those features: Panorama mode goes full circle. You can control the flash and take advantage of the SteadyShot Image stabilization, which reduces blur.
Key Features:
2 color choices
20 megapixel photos/720p HD video
Rechargeable battery; camera itself simply plugs into power source via USB
Cost: Est. $83
Current Rating: 4.0
If you look at the back of this kid camera, you may not be able to tell if it's a game controller or a camera – and that's on purpose. This camera has 5 related but separate functions: take photographs, record video, record voice, photo editor, and 7 built-in games. This is sure to occupy your little one for hours!
Key Features:
4 AA batteries
2 megapixel photos, 340×240 movie resolution
Built-in 128MB memory but add your own SD card for up to 16MB
Cost: Est. $50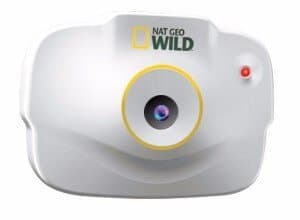 Current Rating: 3.8
We know what you may be thinking: this is a dog cam. But stick with us a minute, because this could be a really fun little device to put on your newly mobile toddler, too. And better yet, we love the idea of giving it to your young child and telling them it's a security camera for them to play spy with! (And then making great use of it by checking in on them from time to time and making sure they're practicing good habits, even when you're not around.) This may not be the digital camera you have in mind, but it'll likely provide $12 worth of laughs for you and your kid.
Key Features:
Clip-on and lightweight
Take photos at intervals: 1, 5, and 15 minutes
Connect to your computer and download the pictures via USB
Cost: Est. $10
Current Rating: 3.3
This camera is for a kid who wants a "real" camera but isn't ready for the responsibility of owning an expensive, multi-function camera. The screen flips up to make selfies more easily taken, and while this seems like an accident risk for rougher kids, you can purchase a 3- or 4-year protection plan for around $10.
Key Features:
16 megapixel photos, 1280×720 video resolution
3 AAA batteries
1-year warranty
Cost: Est. $49.99
Current Rating: 4.0
This is the action cam you want to get for your late toddler to school-aged child. It's so similar to your action cam; coming with mounting hardware and accessories, you may find it odd to see the little cartoon game icons on the display screen. But there they are! This cam comes with a waterproof case and lets your child take pictures, videos, stop-motion videos, and time-lapse photos. And to make sure your little guy does't get bored, there are also games and photo editing built into the camera.
Key Features:
Rechargeable battery
MicroSD card required (not included)
1.4″ LCD display
Cost: Est. $40
Current Rating: 4.4
This hearty camera is perfect for a shutterbug just starting out in the world. It will take the drops and tosses like a champ and still deliver photo effects and creativity apps for your little one to explore. These games and photo collage templates are sure to entertain your little one and keep their creative juices flowing.
Key Features:
2.0 megapixel photos, 160×120 resolution video
4 AA batteries
Durable, designed for rough and tumble kids
Cost: Est. $34
Current Rating: 4.3
This camera is the next step up from the standard Zidizoom listed above and only available online. For the extra ~$40, you get the features of the standard and then some. At the top of that list is the Photo Optimization, where your little one snaps a photo once and the camera takes multiple shots and selects the best one to save. It also has a motion sensor and several associated games to play around with the motion-sensor capability. It has 256 MB of memory built in but that's for the program data as well, so you'll probably want to add in some storage with a microSD card.
Key Features:
4 AA batteries
Photo Optimization, Parental Control to limit play time
Intended for children ages 3-9
Cost: Est. $50
Current Rating: 4.4
Sometimes all those extra features don't amount to a pile of beans, because all your kid wants to do with a camera is take selfies. So why fight it? This camera is designed to give your little ones their first selfie experience in the world. And all the fun features you can expect from VTech are also included. They can create a musical slideshow or play three logic and memory games.
Key Features:
Includes software to create photo effects, cartoons and collages
Front camera 1600 x 1200 pixels, and rear camera 640 x 480 pixels
Rechargeable battery
Cost: Est. $50
Current Rating: 4.8
This is a great camera to start with your toddler. It's durable and has handles specifically designed for little hands who need a big grip. The display screen is rather small, but it's plenty big enough for your little one to view the photo. The camera includes with fun photo frame and cartoon sounds. You'll need to purchase a 32G micro SD card, so it will have as much space for photos as you put in it.
Key Features:
Built-in battery
4 kinds of fun photo frames and key sounds
5 megapixels
Cost: Est. $43
Products You May Be Interested In: