Through Bluetooth wireless technology, wireless home theater systems are quickly increasing in popularity. Who wants to look at a cadre of wires, when you can have a sleek system built for the surround-sound experience?
In addition, wireless home theater systems are much easier to set up since you don't have to keep track of multiple wires and cables. As more homes are turning to wireless home theater systems, we've curated a list of 50 top-rated systems, listed in alphabetical order below. Ratings information is based on Amazon reviews and is current at the time of this writing.
Current Rating: N/A
With its sound capabilities, wireless connectivity options, and multitudes of modes and presets that you can choose from, this soundbar speaker can be a great addition to any and all multimedia and home entertainment systems, as well as a great standalone speaker. It has an easy to use and intuitive interface, it is AntiMagnetic, and it boasts the AntiNoise Hqchipset, making its 2.0 CH speaker system deliver that clear sound that you were looking for without any disturbances, noise, or crackling.
Key Features:
Built-in subwoofer
Bluetooth 3.0
12-month warranty
Cost: Est. $34
For compatible projectors, see our list of The Best Home Theater Projectors.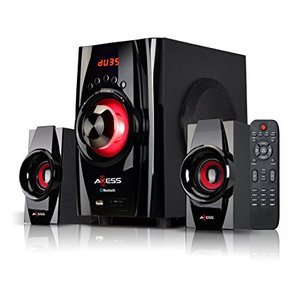 Current Rating: 3.7
While this one is a "what you see is what you get" kind of deal, you can actually see a lot of things from the start. This 2.1 mini system, while relatively small, does possess the sound power and capabilities of a home theater system. It is able to tune into FM radio, read USB sticks and SD cards, and at the same time boasts an RCA connector configuration. Its output power totals at 40W and with its compact size, it can fit in virtually any arrangement and space that you might have.
Key Features:
Remote control
Built-in subwoofer
Bluetooth-enabled
Cost: Est. $54.03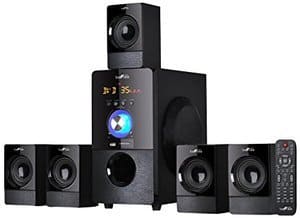 Current Rating: 2.6
The thing that this system is able to bring to the table is a great listening experience coupled with a compact and relatively low profile. For starters, the user interface is easy to use, there is a minimal number of buttons yet are able to deliver all the functions properly. Plus, it even sports a remote control. It is also able to deliver a multitude of listening options, giving you the ability to tweak them, if needed, all at once. It sports a nice sleek design that is easy to maintain, while conveniently matching any environment.
Key Features:
5.1-channel surround sound
Remote control
Satellite and subwoofer speaker
Cost: Est. $92.85
Current Rating: 5.0
Make no mistake about this one, it is a wireless Bluetooth system and it can connect to virtually any device that supports Bluetooth connectivity. Anything from a phone to a media center is easily handled by this system. It also offers 30W+10W output performance, a max separation volume of 50 db, and a s/n ration of 75 db. It is more than enough to entertain a small theater hall without any noise or distortion. Not to mention, it is easy to use, intuitive, and it will facilitate connectivity with a multitude of devices simultaneously.
Key Features:
5.1 Bluetooth
USD SD compatible
Pairs with multiple devices
Cost: Est. $97.98
Current Rating: 4.3
The Bose Acoustimass 10 Series V is more of a heavyweight champion when it comes to sound systems. While it emanates a design more geared towards functionality than looks, its performances are nothing to cringe at. Sporting the Yamaha RX sound chipset, it can deliver enough wattage and volume to make itself heard by the entire neighborhood. Not to mention the fact that it also offers 4K video transmission at 60 frames per second without any form of degradation. It also features wireless connectivity through AirPlay, as well as high-resolution audio format files.
Key Features:
5.1 surround sound
Five speakers

Deep bass
Cost: Est $999.00
Current Rating: 3.8
Right out of the box, the first thing you will notice with this system is the modern, sleek design. This is because the Bose Lifestyle 650 was designed and manufactured for the modern age. That being said, it is also able to live up to modern performance standards, sporting Omni Jewel satellite speakers. As a result, it can offer full 360-degree sound. It also comes with the ADAPTiQ sound calibration system, making it easy to set up your system and fine-tune your preferences as you go along.
Key Features:
360-degree surround sound
ADAPTiQ audio room calibration
Anodized aluminum
Cost: Est. $3,999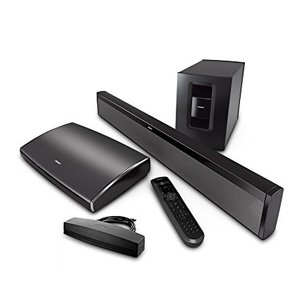 Current Rating: 4.1
One of the most prominent things that stands out with this system is its ability to stream audio seamlessly, regardless of the source that you use. The Bose Lifestyle SoundTouch 135 is very easy to configure with the guided setup. Plus, its advanced configuration lets you tweak the system conveniently. You can also connect up to six different HD video and music sources, making it easy to switch between them without having to drop one for another.
Key Features:
Six HDMI inputs
4K pass-through
NFC pairing
Cost: Est. $1,895
Current Rating: 4.5
Immediately, you will notice that the Bose SoundLink Mini Bluetooth Speaker II has a more retro design, emulating radios from the late 60s, early 70s. Another thing that you will notice is the fact that it is compact and small enough to fit in your hand. This makes it very portable, taking next-to-zero counter space and still able to deliver the performance that you want. It can also connect to gadgets and devices with its wireless connection, and the battery charge lasts for an average of 10 hours.
Key Features:
Speakerphone
Voice prompts
10-hour battery
Cost: Est. $199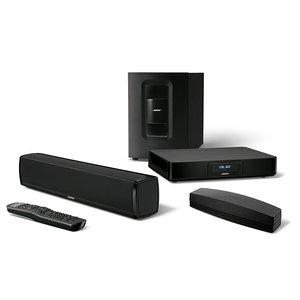 Current Rating: 4.2
The best way to describe this system is by using the words "High Quality," because that is what it can deliver time and time again. For starters, the system can link to virtually any device through wireless connections to stream your favorite playlists, radio stations, channels, and more. It can also easily connect to a home entertainment system in order to deliver high-quality and high-definition sound. Plus, setup is a breeze; with a very user-friendly and intuitive interface design, you can get that perfect sound you crave in a matter of minutes.
Key Features:
Customize sound
Four HDMI inputs
Compact
Cost: Est. $699.99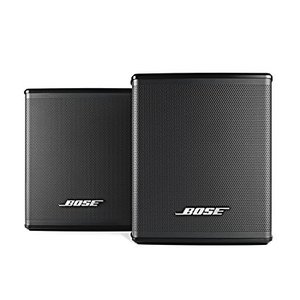 Current Rating: 3.8
Something to note about these speakers is the fact that they are the smallest speakers that Bose has ever made. Combined with wireless features, the small size makes the Bose Virtually Invisible 300 speakers blend in and even disappear in their surroundings. Nonetheless, you will receive high-quality sound without any distortions and loss. This set reminds you that size isn't everything.
Key Features:
Plug and play
Portable
5.1 system
Cost: Est. $299
For additional speaker options, see our list of The Best-Rate Home Theater Speakers.
Current Rating: 3.6
The Boytone BT-210FB Wireless Bluetooth Stereo speakers are a super and convenient way to bring music into your home, offering you the best sound possible at a very tempting price. The speakers have 30-watt, powerful sound that produces a wide audio spectrum with 6.5 sub-woofers. It also supports wireless music streaming via its Bluetooth technology – meaning you can take music with you anywhere around your home. You can also play music from an FM tuner, USB, SD card, or Auxiliary with just a click of the wireless remote control. Even better, the Boytone BT-210FB Wireless Bluetooth Stereo speakers come with an easy-to-read LED digital display.
Key Features:
30 watts
LED display
Bluetooth technology
Cost: Est. $84.79
Current Rating: 2.8
Enjoy the best of digital audio with the Boytone BT-328F, 2.1 Wireless Bluetooth Multi-Media speakers. Using a simplified full digital signal path, these powerful speakers produce digital audio signals, and the result is not just more power, but significantly less sound distortion. Enjoy immersive surround sound and enjoy your favorite DVD movies. You can wirelessly stream your favorite tracks and apps with Bluetooth, pair your smartphone, laptop, or tablet with this Bluetooth-enabled sound system, and you can enjoy your music and even control the playlists and volume right from your device or the remote control device. Connect your USB cable to the front USB port to hear your favorite playlists, and easily control playback with the remote to great audio from all your devices.
Key Features:
One-year warranty
Digital display
Bluetooth technology
Cost: Est. $69.99
Current Rating: 2.0
Hear what you've been missing with this 39-Inch 2.1 channel sound bar built-in Bluetooth for soundbar and sub-woofer – it noticeably brings better sound. It is engineered to help reproduce everything with more clarity. This soundbar is so versatile that you can place it almost anywhere. And, with Bluetooth connectivity, you can play your favorite music wirelessly through the speaker. The surround sound system is designed with DSP technology for amazing clarity and precision; it brings you an upgraded home theater experience.
Key Features:
2.1 channel
One-year warranty
DSP technology
Cost: Est. $99.99
Current Rating: 4.4
The DOSS Touch Wireless Bluetooth V4.0 Portable Speaker gives high definition sound and bass features with 360-degree sound for a superior and portable listening experience. The speaker contains 6-watt high-performance drivers and an enhanced bass setup with a full-bodied sound and less than 1 percent harmonic distortion. Unlike other portable Bluetooth speakers that measure their battery life with the volume set to 50 percent, the DOSS Touch's battery life is measured with the volume set to 75 percent – a much more realistic value, since most people like to pump up the volume. With that said, the Touch's battery life is a whopping 12 hours so that you can party all night. Once the battery is drained, recharging is quick and easy thanks to the micro USB charger that gets the job done in less than four hours. The DOSS Touch also uses Bluetooth 4.0 technology to pair with your smartphone and other devices from an impressive 33-foot distance.
Key Features:
12-hour battery life
360-degree sound
Bluetooth technology
Cost: Est. $27.98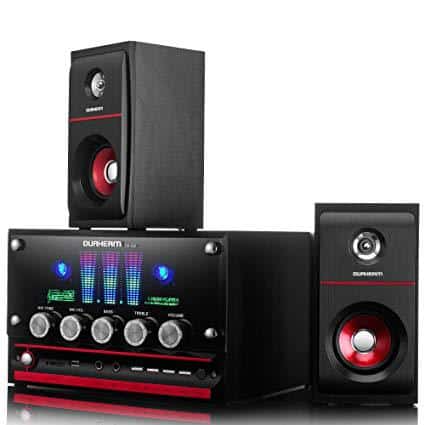 Current Rating: 3.4
The Durherm DR-S30 is one of the finest home theater systems on the market today. The system is quite loud with a very clear sound quality along with an unbeatable price. Crank up the audio on your mobile phone, PC, or any other device with this 2.1 Speaker system and enjoy clean and consistent sound from your movies, games, and music. You'll also notice a more professional sound performance and powerful sound quality powered with 190 watts PMPO and 95-watt RMS, subwoofer, and four-channel tweeter satellite speakers. Both the subwoofers and the speakers are magnetically shielded to provide the greatest protection against image distortion on a computer monitor or a TV. The speakers are also compatible with all PC models, desktops, laptops, and all MP3 players, Discmans, and Walkmans, as long as they are equipped with a headphone jack port. You can also use your USB or flash memory card inputs so that you can listen to your MP3 songs directly from your memory card and control each one of the MP3 songs using your remote control.
Key Features:
Realistic sound
2.1 system
SD mmc and USB flash memory card inputs
Cost: Est. $61.44
Current Rating: 4.0
If you are in the market to buy a new 5.1 system altogether, this new Enclave Audio CineHome HD offers 14 distinct drivers in six individual speaker enclosures that surround you with sound, not wires. It is an incredible soundstage of 24-bit wire-free audio, creating an HD-quality immersive audio experience. The user-friendly controls put the entire world of wire-free, high-definition surround sound right at your fingertips. Every Enclave Audio CineHome HD surround speaker features a bipole driver configured system with angled drivers to disperse audio throughout your room. In fact, there is no need to purchase an AVR. An innovative and inventive design that incorporates all the system controls, outputs, inputs, and center channel audio all in one enclosure saves both space and money. As a result, the Enclave Audio CineHome HD Smart Center speaker can become the control center of your system.
Key Features:
5.1 system
Wireless HD
WiSA technology
Cost: Est. $799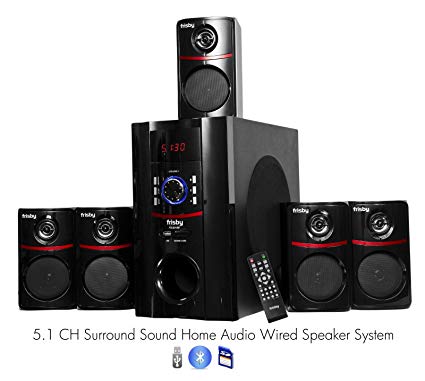 Current Rating: 1.0
The Frisby FS-5010BT subwoofer features an all-in-one ready-to-use home theater with an LCD screen that makes it easy to see which track you're playing or adjust EQ level or volume. The model supports Bluetooth 5.1 technology for streaming audio wirelessly from devices that are Bluetooth-enabled. For other non-Bluetooth devices, there is a 3.5mm auxiliary input port. Additionally, the system includes an LCD panel and remote control. You've got full power to fill your room with big, balanced sound. Both speakers, and the subwoofer are magnetically shielded to protect against image distortion from external electronic sources. It is compatible with all PC models, laptops, smartphones, MP3 players, iPod, Discmans, and Walkmans equipped with a headphone jack. Moreover, the remote control has controls for trebles equalizers and bass, volume, play/pause, previous/next track, Bluetooth sync, and power.
Key Features:
Bluetooth technology
10 watts per channel
5.1 system
Cost: Est. $149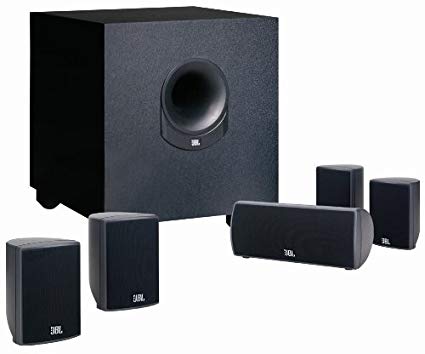 Current Rating: 3.3
The JBL SCS145.4 is a complete, versatile, 5.1-channel home theater system.The sound system includes an 8-inch powered subwoofer, a center-channel speaker, and five satellite speakers. A front-panel USB port lets you play audio media from USB sticks, while its DLNA-compatible network connection lets you stream audio content from other devices on your home network. That legendary JBL sound now enhances your home theater experience with a complete, 5.1-channel system. The system even streams entertainment from the Picasa, Youtube, Soundcloud, Deezer, Pandora, and more.
Key Features:
5.1 system
100 watts
8-inch woofer
Cost: Est. $239.99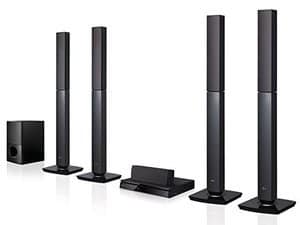 Current Rating: 3.8
Enjoy powerful sound wirelessly with the LG home theater that is compatible with all DVDs. The sound system has 1000 watts of power that comes with optical x1, Bluetooth, FM radio, and a USB port. Enjoy your favorite music stored on your laptop, iPad, tablet, or mobile devices through the LG sound system with wireless audio streaming via Bluetooth. Plus, you can also make good use LG audio's karaoke function at any time. Moreover, the device is well packed and easy to install.
Key Features: 
Bluetooth technology
Karaoke function
1000 watts
Cost: Est. $369
Current Rating: 4.5
This 150-Watts peak power 5.1 speaker system delivers rich, deep surround sound. Five speakers plus one subwoofer provide audio you can hear and feel. You can even enjoy true surround sound via six-channel direct inputs using your computer sound card, or create 3D stereo surround sound from two-channel sources when connecting via the 3.5mm or RCA inputs. The sound system has easy-access power and volume on the right satellite speaker. Enjoy a theater experience in the comfort of your home. The 150 Watts Peak/75 Watts RMS power system with down-firing subwoofer provides big bold sound to any seat in the room, giving you an audio experience you can truly hear and feel. It also supports multiple connection options.
Key Features:
3D stereo
5.1 system
75 watts
Cost: Est. $89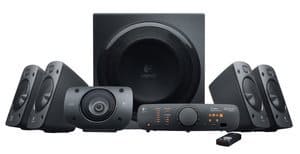 Current Rating: 4.5
While the cost of a date night at the theater is rising, a home theater system is a one-time purchase. Backed by Dolby Technology, every movie will give you that theater feeling, without all the expenses. You can also set up the Logitech Z906 to connect with up to six devices – that means even those old videos you transferred to digital will sound as good as they possibly can. With all this ability, backed by 500 watts of power (with a high peak of 1,000), you will even feel the bass of this in your teeth.
Key Features:
DTS digital certified
5.1 system
Connect six devices
Cost: $267.89
Current Rating: 4.1
Connecting your devices has never been easier. Whether you have an Android, or Apple or even a DVD player, they all meet at LuguLake – where the sound is quite fine. This wall-mounted soundbar is both sleek and lightweight, making its six-pound weight lighter than some of the pictures already hanging on your walls. In addition, it creates a bubble around you, making you feel like you are not only sitting right inside the action, but you can also hear the action all around you.
Key Features:
2.0 channel
Wireless remote control
DSP technology
Cost: Est. $49.99
Current Rating: 4.0
Big game coming up and can't afford to go? This system keeps you in the game, and hearing every single bit. The Meidong Bluetooth Soundbar combines new and old technology for those of us who are still working on getting our systems updated. Meaning that whether we have an old analog TV or a newer 4K curved model, we can keep just one system for all our needs. Setting this up with multi connections is simple, as well. With cables provided and a remote control, this system gets you in the game before you have even pressed start.
Key Features:
2.0 channel
Built-in subwoofer
Bluetooth technology
Cost: Est. $79.99
Current Rating: 4.1
This is more than just a soundbar. This is a speaker system that connects to your TV or program in such a way that you are immediately surrounded by the sound. With its classic black design, the soundbar can be incorporated into your space with style and ease. One of the greatest features of this soundbar is the simple remote. With large buttons and multiple controls, it is a direct connection to all your sound needs. Despite its power and ability, it is so sleek, you may not even notice it is there.
Key Features:
Cost: Est. $69.99
Current Rating: 3.9
This six-piece sound system takes a major step towards sounding like you are living the movie you are watching. The amp adds power and strength to an impressive home theater system. It not only has HDMI capabilities, but it has an audio return channel to make whatever is on your TV feel even closer than it is. Then, use the Bluetooth aspect to connect anything on your phone or tablet, directly into your preferred space. Need to stretch your legs? Not to worry, you can set it up to listen in various rooms.
Key Features:
Dolby TrueHD
Bluetooth technology
Qualcomm aptX audio
Cost: Est. $249
Current Rating: 3.9
The Onkyo HT-S5800 will show you what surround sound really means. This system is a heavy contender in the home theater market. With the ability to connect 5.1 2 channel speakers using Dolby Atmos sound technology, the good life is here. Whether you are enjoying family time or developing your own music video–this is the system that you need.
Key Features:
5.1.2 system
115 watts per channel
Double bass
Cost: Est. $699
Current Rating: 4.0
The Phillips BTM2180 offers the combination of a well-known brand and impressive sound. With Bluetooth connection, you can conveniently listen to your heart's desire at any given moment. All the connections increase the ability for crisp sound. In addition, its clean look adds a beautiful definition to any desk or table. Once you hear the Phillips BTM2180, you won't want to listen to anything else.
Key Features:
90-day warranty
Bluetooth technology
Powerful sound
Cost: Est. $97.19
Current Rating: 4.0
With its compact speakers and subwoofer, the Pioneer 5.1 Home Theater System has it all. Bluetooth, HD, Dolby, and 3D capabilities–there is nothing this system cannot do. Plus, the design is both sleek and edgy. Capable of incredible sounds through any of its HDMI and HTP outputs, it supports the latest technology available today. This system even supports 4K. You can also use the Bluetooth to connect your favorite shows or simply connect the DVD. It doesn't get any better.
Key Features:
Ultra HD pass-through
5.1 system
Bluetooth technology
Cost: Est. $349
Current Rating: 3.2
What's the worst thing about buying new equipment? Setting up the remote. Have no fear though, the Polk Audio Omni SB1 has a learning feature that transfers "knowledge" from your TV or cable remote. In addition, it fits seamlessly along with your décor. The black speaker system provides a top-rated experience by showing you that a TV is only half the picture. If you want to feel the environment, the Polk Audio Omni is the way towards achieving that objective.
Key Features:
Dolby Digital 5.1
Voice adjust technology
8″ wireless subwoofer
Cost: Est. $329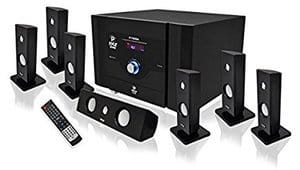 Current Rating: 2.6
This system really is the life of the party. The Pyle PT798SBA lets you hear sound in the way it was intended. In fact, you can connect through Bluetooth and playing MP3 and MP4s—this system will play from a wide variety of outlets. If the radio does not tune in, that is okay too. This system connects through its own external radio frequency tuner. Sound has never had it any easier.
Key Features:
Wireless remote control
DVD and CD compatible
164 watts
Cost: $197.68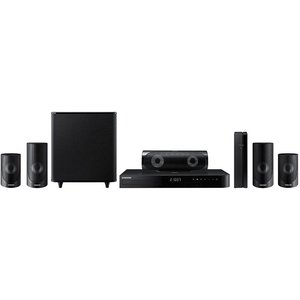 Current Rating: 3.4
Everyone wants to watch their favorite movies, and play them loud. Yet, with this system, your TV can become a next-level computer. This Samsung system allows you to update your Facebook status or download your kids' pictures all while you shop online and play your favorite movie. Moreover, it does not matter if you are using a computer or a tablet. With the rear speakers, the system envelops you while you have your control in hand. Forget 4K, with the Samsung 3D Blu-ray system, you won't need it.
Key Features:
Wireless rear speakers
Remote control
One-year extended warranty
Cost: Est. $327.99
Current Rating: 3.6
The Samsung HT-J4500 is a classic choice that never goes out of style. With Bluetooth, USB, HDMI and Digital Audio options, this 5.1 channel surround sound lets you see and hear in 3D. On top of the surround sound, the Blu-Ray player saves you money on a 3D TV, helping you keep the quality without the high-cost investment. Live in the sound for as long as you like.
Key Features:
5.1 system
Bluetooth technology
DTS digital surround
Cost: Est. $194.94
Current Rating: 3.4
No need to clutter your floors with legacy surround sound systems. Stick to this stunning display from Samsung. Moreover, the HT-J5500W has a wireless option for Local Area Networking (LAN), which means you can access the Internet without any extra devices! With built-in FM Radio, mic jack and direct USB recording, the kids will have their YouTube channel set to go before you have even finished programming the movie playlist.
Key Features:
Region-free
5.1 system
Built-in wireless LAN
Cost: Est. $327.99
Current Rating: 3.6
We have all been there. Walking across the room and boom, we have tripped over the subwoofer cord, which pulled it out of the back of the speaker, which resulted in a bent prong. Well, with the Samsung HW-K370, that is now a non-issue. This wireless subwoofer puts your feet to rest and keeps the subwoofer in its spot. Plus, this wall mountable, Bluetooth-accessible speaker set can fulfill all your surround sound needs. Can't find the remote? Use your Android phone with remote App instead.
Key Features:
Wall mountable
Wireless rear speakers
4.1 system
Cost: Est. $159.99
Current Rating: 2.4
If you're ready to start thumping your toes and tapping your fingers, you need the Sharper Image 5.1 Home Theater System. It connects to any TV and setup is a breeze. Plus, it comes with separate controls for speaker sound to turn it up or dial it down. With the Sharper Image quality we all know and love, you might feel like you've turned your home into an orchestra.
Key Features:
5.1 system
Bluetooth technology
Subwoofer and satellite speakers
Cost: Est. $125.20
Current Rating: 4.6
This speaker system is not your average wireless home theater system. Instead of worrying where to place it, this system can fit into any configuration. It can even fit under your TV, without compromising the integrity of the sound. Amazingly, the SONOS 5.1 Home Theater System PlayBase can hold a TV weighing up to 75 lbs. It may sound like not very much, but that is the weight of three or four subwoofers. And, it does not miss a beat.
Key Features:
Low-profile design
Wireless rear speakers
Full-theater sound
Cost: Est. $1,597
Current Rating: 4.4
This dynamic system is not just a speaker, it can fit in the palm of your hand. Yet, it fills the room with a stunning sound comparable to any speaker in this price range. You'll like the fact that setup takes less than five minutes. All you really need is some time and your playlist. You may be wondering what makes this small speaker such a big deal. Well, it easily connects to your program and does not just play your list, elevates every sound for a crisp experience no matter where you are.
Key Features:
Portable
Wall mountable
Five-minute setup
Cost: $149
Current Rating: 4.2
Feeling nifty and wanting to play different songs in different rooms? Do the kids prefer to listen to different tunes when they have friends over? If you answered yes to any of those questions, then SONOS Play:3 is the choice for you. Since you can place it upright or on it's side, there are many options for how to incorporate this speaker into your room design as well. Plus, it has Trueplay Speaker Tuning which enhances the sounds you hear. In addition, with the Play:3 option, every sound is optimized towards the orientation you prefer in the room of your choice.
Key Features:
Finely-tuned sound
Full stereo
Custom-built drivers
Cost: Est. $249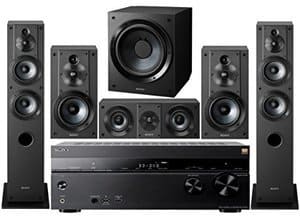 Current Rating: 4.6
Have you ever been to a concert and gazed upon the sheer size of the speakers? The Sony 7.2 3D 4K System is just like that, only smaller. The sound is the same as being in the front row of your favorite form of entertainment, and you can stream all your music to one location. Take it a step further and add three more speakers so the sounds of music will follow you where ever you are in the house. The system connects using Master Audio, which means losing audio won't be an issue. Not to mention, the six HDMI, USB and four stereo ports are quite nice too.
Key Features:
Seven-channel amplifier
4K Ultra HD pass-through
100 watts per channel
Cost: $1,499.95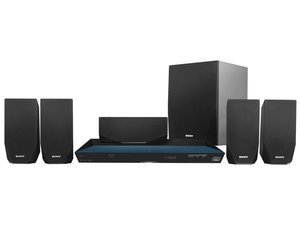 Current Rating: 2.8
This Sony BDV-E2100 supports full 1080 HD, for unparalleled quality. Instead of the old "find a plug to connect and charge my device at the same time" method, use the state of the art WIFI system and Bluetooth technology to connect and play from the comfort of your chair. Sony is a trusted global brand, and this system certainly maintains that well-deserved reputation.
Key Features:
Full HD 1080p
90-day warranty
5.1 system
Cost: Est. $289.98
Current Rating: 3.4
Sony is the system you want when searching for home theater ambiance. With WIFi and Bluetooth access, your videos and music have never sounded better at the touch of your hand. Stream your pictures with the 1080 HD quality to your television, and sit back and simulate the experience in a movie theater with its surround sound and subwoofers. With over five audio Channels, the Sony BDVE3100 is a top choice among wireless home theater systems.
Key Features:
Built-in WiFi
Bass reflex speaker
7.1-inch subwoofer
Cost: Est. $449.95
Current Rating: 2.6
Now the melodies of your music or favorite streaming shows have never sounded better. With the ability to connect at the touch of a button, you can access all the video or concerts of your choice. This is the combination that makes the experience of audio and video a class above. Be in the moment as your favorite concert plays and your five-Channel, wireless surround sound speakers pump out the tunes through its dominating subwoofer.
Key Features:
5.1 system
Wireless rear speakers
Bluetooth technology
Cost: Est. $699.95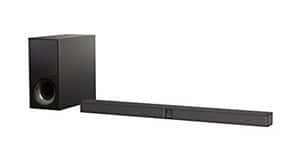 Current Rating: 3.6
This ultra-slim sound bar connects to your devices through Bluetooth making the transition to sound easy, while maintaining a sleek look that can be easily mounted to the wall. Hear better with the high-quality 2017 model that can be adjusted for night sounds to minimize disruption. With one remote, you are transported to the moment your favorite character charges into battle, because you are enclosed by the effects of every emitted nuance.
Key Features:
300 watts
Voice and night mode
Single remote
Cost: Est. $198
Current Rating: 3.6
Staying within 10 m of the device, the TaoTronics Soundbar allows you use traditional or modern attachments to connect the speakers for all of your surround-sound needs. Complete with a wall mount and a wireless option, this set is the designed for all types of users. With its multi-interface accessibility, you can utilize several devices on one system. Plus, the quality of these speakers fills any room with sound. You would be hard-pressed to find a better system at this price.
Key Features:
2.0 system
Bluetooth technology
Four speakers
Cost: Est. $59.99
Current Rating: 3.2
This powerful home theater system has incredible strength behind its name. With a power rating of 400 Watts, the TS509 is a high-tech idea at affordable prices. The built-in magnetic shield protects the speaker from electromagnetic damage due to loud music. It also has a remote sensor lamp and is lightweight for easy setup. With five speakers–two of them for surround sound, the home theater experience is maximized. It does not matter if it is a home video of your daughter's graduation or the sound of the concert you attended, the TS509 is essential for an enhanced home-viewing experience.
Key Features:
400 watts
Magnetically shielded
remote control
Cost: Est. $69.99
Current Rating: 3.1
The VIZIO uses Dolby Digital Surround Sound technology to highlight the music in your home. With the powerful speakers and subwoofer system, this wireless option connects to any device with ease. In no time, you are at the center of it all with this expansive system and satellite speakers. The sound bar is also lightweight and with several speakers. It's hard to believe how it pushes sound at you like nothing you have ever experienced before. With this product, the term "being the moment" has never meant so much.
Key Features:
5.1 system
DTS TruVolume
Bluetooth technology
Cost: Est. $290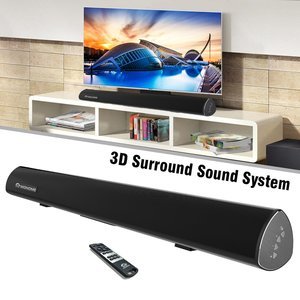 Current Rating: 4.3
Combining four built-in pieces, this sound system connects to all your products with the touch of a button. Designed with clarity and sound in mind, you can utilize the soundbar at any location with minimal impact on the end result. The included tubes influence the sound so much, you will not even need the subwoofer that other products demand. On the other hand, you can use the built-in wall mount to save both time and space. The Wohome speaker system is what you need for your sound-streaming needs.
Key Features:
Two bass reflex tubes
2.0 system
Wall mountable
Cost: $109.98
Current Rating: 4.5
The Yamaha NS-SP 1800BL is the system to beat when considering your home theater needs. Despite its compact design, it has impactful sound. With a dedicated central subwoofer and magnetic shields to protect the speaker, no movie or music will ever sound the same. Yamaha technology is world-renowned, and this home theater utilizes an internal pressure system not found very often. With its high frequency and removable grill for cleaning, the Yamaha surround system completes your home theater with ease.
Key Features:
Magnetic shielding
Wall mountable
Wireless capabilities
Cost: Est. $149.95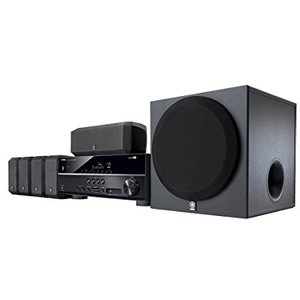 Current Rating: 4.1
With everything moving towards wireless technology, the Yamaha YHT-3920UBL is no exception. Using the progression of 4K advancements, the sounds heard are as clear as if you were there. Supported by a five-channel, 8" 100W subwoofer, this system is designed with Bluetooth technology in mind. Its sleek and compact design increase the aesthetic pleasure of the speakers, making this the must-have of any home theater room set. You might even forget where you are.
Key Features:
4K Ultra HD pass-through
Bluetooth technology
Five-channel speaker
Cost: $429.95
Current Rating: 3.9
With its wireless capabilities and incredible visual outputs, the Yamaha YHT MusicCast is the system everyone is talking about. Have you ever been in one room and wanted to continue listening while walking into another room? Now you can. Connecting to whichever room you desire is exactly how the Yamaha MusicCast works. Whether you use Apple or Spotify, the ability to envelope yourself in sound has never been easier through its formidable WiFi and Bluetooth capabilities.
Key Features:
Bluetooth technology
Five-channel speaker
Front-panel USB connection
Cost: $599.95
Regardless of the weather or how much you have in your wallet at the moment, a wireless home theater system allows you to have instant entertainment. All you have to do is stream your favorite movie or pop in a cherished DVD. Now, you can enjoy amazing sound quality with a theater-like experience. Plus, you don't have to deal with all the wires.
Additional Resources
For more Home Theater Reviews, check out our partner site:
The 50 Best Home Theater Systems – Family Living Today
Products You May Be Interested In: