If you use a desktop computer, you are familiar with the wireless computer mouse. Many people also purchase computer mice to go with their laptops or tablets. Depending on what you'll be using the mouse for, you might prefer a trackball, gaming, or budget-friendly mouse.
We have looked at dozens of wireless computer mice so we could bring you the best of the best. We considered the uses of the various mice as well as how well they work, whether they have any special features, and how Amazon buyers rated and described them.
The top spot on our list goes to the Logitech G Pro Wireless Gaming Mouse. It works seamlessly with wireless connectivity, reducing the lag that many wireless mice are prone to. It's also lightweight, which is great for people who prefer little to no drag as they move their mice. You can use this mouse whether you are right- or left-handed. If you are also looking for a gaming monitor, you won't want to miss our piece on the best gaming monitors, as one of our favorites might make a great companion to this mouse!
The 5 Top-Rated Wireless Computer Mice
*Ratings are from Amazon and might change over time.
Best Wireless Computer Mouse Overall: Logitech G Pro Wireless Gaming Mouse
The Logitech G Pro Wireless Gaming Mouse earned our highest accolades thanks to it's lightning-quick movements. It will keep up with your motions and won't exhibit any latency when you are immersed in your work or your game. The report rate connection is an impressive one millisecond, which is undetectable by even pro gamers. It is lightweight and ambidextrous, offering you an incredible amount of versatility.
This mouse comes with four removable buttons; you can customize this to your liking. Use the buttons 50 million times before they show wear. You will need to charge the battery after every 48 hours of use, and you can charge it while you're using it. The Hero sensor uses less power than many other mouse batteries, so you will get a lot of life out of the battery.
Logitech G Pro Wireless Gaming Mouse Key Features:
Ambidextrous
Lightweight
No latency
Four removable buttons
Rechargable battery
Hero sensor
Best Left-Handed Wireless Computer Mouse: Acedada Left Hand Vertical Mouse
If you're a southpaw, check out the Acedada Left Hand Vertical Mouse, which is the one that made the top spot in our comparison of the wireless computer mice made for lefties. It is made so you use a "handshake" position to increase the amount of time you can comfortably use the mouse. This is particularly helpful if you have a repetitive strain injury from using a traditional mouse.
It has six buttons, including "page forward" and "page back," which makes it incredibly easy to use while navigating your computer for work or for leisure. The battery is easy to recharge, and it is compatible with most Windows products. Note that it will not work for an Apple or Mac product. The mouse comes with a 24-month warranty and lifetime technical support.
Acedada Left Hand Vertical Mouse Key Features:
For left-handed users
Ergonomic vertical design
Good for people with repetitive strain injuries
Six buttons
Easy to navigate
Quick charging
Compatible with Windows systems
Best Budget Wireless Computer Mouse: Jelly Comb 2.4G Slim Wireless Mouse
The Jelly Comb 2.4G Slim Wireless Mouse is an excellent choice for those who are on a budget. It offers smooth navigation and the clicks are quiet, making it a good choice for those who work in an office close to others. The wireless receiver will fit into your USB port. The mouse falls asleep after eight minutes to conserve power, and it wakes up again when you move it or touch one of the buttons.
This wireless mouse comes in a wide variety of colors to work well with any color scheme. It is compatible with Windows computers as well as the Mac computer. It doesn't work with laptops (such as the Macbook Pro) that have only a type C port. This mouse takes a AA battery, which is not included.
Jelly Comb 2.4G Slim Wireless Mouse Key Features:
Smooth navigation
Takes one AA battery
Shuts down after 8 minutes of non-use
Comes in a variety of colors
Affordable
Compatible with Windows computers
Best Trackball Wireless Computer Mouse: Kensington Orbit Trackball Mouse
For people who prefer a trackball mouse, the one we like best is the Kensington Orbit Trackball Mouse. You will minimize your hand movement by using your fingers to move the ball, which comes in either blue, gray, or white. The ball measures 40mm (a little under two inches) and is a perfect sphere, giving you excellent control. There is also a scrolling wheel that lets you scroll up and down on the screen with just a finger motion.
This mouse is ambidextrous and comes with a detachable wrist rest for comfort. You can customize what the two buttons do using the included software or, if you use Chrome, one of the Chrome functions. It is compatible with Windows, Chrome, and Mac OS.
Kensington Orbit Trackball Mouse Key Features:
40mm trackball
Available in three colors
Scrolling wheel
Ambidextrous
Includes customizing software
Includes detachable wrist rest
Best Wireless Laptop Mouse: VicTsing MM057 2.4G Mouse
The VicTsing MM057 2.4G Mouse made the top spot among wireless laptop mice. You can use it with a notebook, laptop, Macbook, and also your desktop computer. It's ergonomically designed, and it includes a thumb rest and a streamlined arc. A AA battery will last over a year, giving you peace of mind that it won't run out of juice when you're in the middle of a project or a presentation. Also, it will go into sleep mode after eight minutes of non-use to help prolong the battery's life.
The wireless connection will work for up to 33 feet, giving you tons of flexibility and versatility. You can change the cursor sensitivity depending on what you're doing. There are two side buttons that allow you to navigate back and forward, and the mouse works smoothly and without lagging or jumping.
VicTsing MM057 2.4G Mouse Key Features:
Works with most laptops, notebooks, and computers
Ergonomically designed
Includes thumb rest
Takes AA battery (not included)
Long battery life
Two side buttons
Who Should Buy a Wireless Computer Mouse
If you use a computer or tablet, a mouse will allow you to use it without relying on the touch-pad or touch-screen. It's always good to have an extra mouse on hand because if yours breaks or stops working, it is very inconvenient for you to stop what you're doing to go to the store (or go online) and purchase another one.
Gamers also use computer mice when gaming on their computers. If you are a gamer, you might consider a Multiplayer Online Battle Arena (or MOBA) mouse. These come with programmable buttons on the side that will make it easier for you to maintain your consistency during the game.
If you're searching for other ways to untangle your tech, then you may want to check out The Best Wireless Headphones, The Best Wireless Printers, or The Best Wireless Chargers.
Important Features to Consider
The type of computer mouse you buy will depend on what you're using it for and the features that you want. Here are some things to consider as you make your decision.
Gaming capability. If you are going to be using your mouse to play games, you might prefer a MOBA mouse. You'll also want one that can keep up with the games that you tend to play.
Trackball vs traditional. This is largely a matter of personal preference. If you'd like to be able to move the cursor without moving your wrist and arm around, a trackball mouse might be the best option.
Your hand size. If you have large hands, you will probably want a large mouse, and vice-versa.
Weight. This is also a matter of personal preference. Some people like a heavier mouse, and some like a lighter one.
Frequently Asked Questions
What is the best wireless computer mouse to buy?
The best computer mouse is the one that will work best for you. You need to decide whether you prefer a  lightweight mouse, a gaming mouse, a trackball mouse, or something else. Look through our recommendations for each type of mouse to find the one that will be the best complement to your system.
How expensive is a wireless computer mouse?
Depending on the type you choose, a computer mouse might range from under $10 to $200 or more. In general, a simple mouse will be your least expensive option, while a high-tech gaming mouse will be the most expensive. Look at mice in your chosen category to get a feel for common prices to give you an idea of what you might expect to spend.
What are the types of computer mice?
A corded mouse plugs into your computer, while a cordless mouse communicates with your computer via radio frequency technology. A trackball mouse has a ball on the top or, in some cases, on the side to allow you to navigate the screen by moving the ball. A MOBA mouse is used for gaming. There are also ergonomically designed vertical mice and mice made for people who are left-handed.
Can I use a normal mouse for gaming?
You can, but it will not be as smooth of an experience as it would be to use a gaming mouse. A gaming mouse makes it less likely that your movements will lag and it will be able to support the software of your game. You could always start out with a traditional mouse and then upgrade to a gaming mouse if you find that you need it.
Other Wireless Computer Mice We Reviewed
In addition to the computer mice that made our top 5 list, we also reviewed 20 other computer mice of various types. While these didn't earn a spot at the top of our list, they are still great options to consider for your aquarium.
Wireless Trackball Computer Mice
AmazonBasics Wireless Trackball Mouse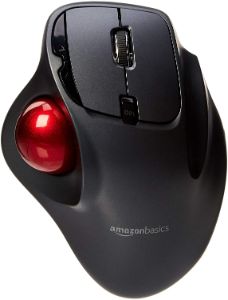 This ergonomically designed mouse allows you to rest your hand and use your thumb to navigate your computer screen. This is for right-handed use.
Key Features:
Thumb-controlled trackball
Top scrolling dial
Two programmable buttons
Cost: $30
ELECOM Wireless Thumb-Operated Trackball Mouse
You can use this trackball mouse for gaming if you choose because it has a precise gaming sensor and offers a smooth navigating experience.
Key Features:
Thumb-operated trackball
Has six functional buttons
Comes in a wired version as well
Cost: $35
Jelly Comb Bluetooth Trackball Mouse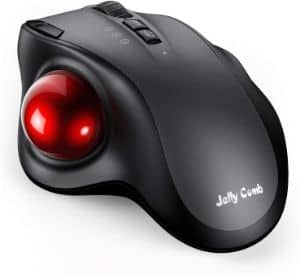 With a strong Bluetooth wireless connection, this mouse will reduce lag and latency. Connect up to three devices at the same time!
Key Features:
Rechargeable battery
Can be used for Mac, Android, or tablet
3 adjustable DPI levels
Cost: $40
Logitech M570 Wireless Trackball Mouse
With this mouse, a small wireless receiver will stay in your computer, so you won't need to worry about connectivity issues. You can also add a compatible keyboard or number pad.
Key Features:
Battery can last up to 18 months
Designed for right-hand use
Integrated scroll wheel
Cost: $30
Wawliving Wireless Handheld Trackball Mouse
This unique trackball mouse is handheld and able to be used by right- or left-handed people. It also includes a laser pointer.
Key Features:
No need for a table
Ambidextrous design
No software required
Left-Handed Wireless Computer Mice
ELECOM Left-Handed 2.4GHz Wireless Trackball Mouse
This is the left-handed version of one of the Elecom trackball mouse described above. It has six buttons and smooth tracking for ease of use.
Key Features:
Six buttons
Thumb-controlled trackball
Precise gaming sensor
Cost: $40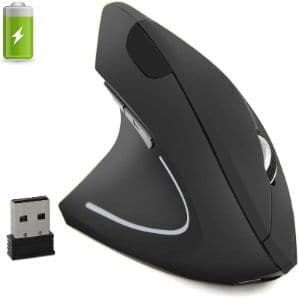 This is an ergonomic rechargeable mouse that is designed for left-handers. It has three adjustable DPI levels for versatility depending on what you're doing.
Key Features:
Vertical design
Adjustable DPI
Uses USB receiver
Cost: $15
Jelly Comb Wireless Left-Handed Mouse
This is another vertical-style mouse for lefties. This is ergonomically designed and good for people who work long hours on the computer.
Key Features:
Quiet clicks
Vertical-style
Good for long hours
Cost: $30
Another ergonomically designed mouse, this one encourages neutral hand positioning. The USB receiver at the bottom of the mouse allows you to "plug and play."
Key Features:
Ergonomic design
3 DPI levels
Power-saving
Cost: $30
The six buttons on this ergonomic computer mouse give you good function and versatility, while the on-off switch helps you conserve your battery's life.
Key Features:
Has 6 buttons
3 DPI levels
Power-saving
Wireless Gaming Computer Mice
Corsair Dark Core RGB Pro Gaming Mouse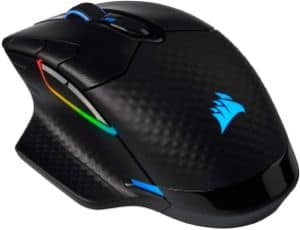 With three ways to connect, you will be able to find the connection style that works to reduce lag and eliminate latency for top-notch gameplay.
Key Features:
Extremely low power consumption
Hyper-polling technology
Ergonomic shape
Cost: $70
PICTEK Rechargeable Wireless Gaming Mouse
If you love RGB lighting, you'll love this gaming mouse. It has three different RGB zones, allowing you to customize its appearance.
Key Features:
Can work as wireless or wired
Professional and accurate
5 DPI levels
Cost: $30
Razer DeathAdder v2 Pro Wireless Mouse
This high-end wireless gaming computer mouse has a 20,000 DPI optical sensor that auto-calibrates and reduces cursor drift.
Key Features:
Faster than competing computer mice
Customizable RGB lighting
Up to 120 hours of battery life
Cost: $130
This wireless computer mouse has nine programmable buttons on the side to enhance gameplay. It has an anti-skid scroll wheel and smooth Teflon feet.
Key Features:
9 programmable buttons
Anti-skid scroll wheel
Smooth Teflon feet
Cost: $50
UtechSmart Venus Pro RGB Wireless Gaming Mouse
With 16 customizable side buttons, this MOBA mouse is created for the ultimate in versatility when it comes to your gameplay.
Key Features:
16 programmable buttons
Stable and fast data transmission
Little to no latency
Other Wireless Computer Mice
This versatile little mouse is slim and easy to use with your PC, laptop, notebook, or MacBook. It comes in a variety of attractive colors.
Key Features:
Compatible with many laptops, notebooks, and PCs
Ambidextrous
Adjustable DPI
Cost: $10
This mouse will work with a long distance up to 20 meters, so you can be flexible about where you're working or playing. It will work with most laptops and PCs.
Key Features:
Lightweight and quiet
Good for travel
Power saving design
Cost: $12
Leadsail Wireless Computer Mouse
This mouse has nearly silent clicks, making it great to use while commuting, working in an office cubical, or simply not wanting to disturb others in the home.
Key Features:
Compatible with most laptops and PCs
Available in many colors
Adjustable DPI
Cost: $9
Just plug in your USB receiver and start using this mouse. There are no downloads required, and it comes in a wide variety of pastel and bright colors.
Key Features:
Good portability
Quiet use
Works with laptops
Cost: $12
TeckNet Pro 2.4G Wireless Mouse
This is a great little computer mouse, featuring six buttons and five DPI levels. The battery can last up to 24 months, making it a good value.
Key Features:
Has 6 buttons
Five DPI levels
Long-lasting battery
Cost: $10