If you're in the warehouse industry, you will be well-versed in its ever-changing nature. And with this new technology and that new tool always generating buzz, it can be difficult to keep up with the latest industry trends and standards.
Remaining in-the-know may be tricky, but its essential. Warehouse owners and workers need to stay up to date in order to remain competitive, stay up to date with the latest advances, and adapt their warehouse practices and tools for changing times.
If you're wondering how best to stay up to date, reading warehouse technology blogs is the way to go. We've rounded up 10 of the best warehouse technology blogs, so you don't need to scramble to find blogs that are useful, practical, and enjoyable to read.
Got a favorite warehouse technology blog that we missed? Send an email to cynthia@cornerstonecontent.com – we'll add it to the list of reader favorites!
Capterra's blog is a blog about "Inventory, warehouse, and distribution technology for logistics professionals." As such, this blog isn't focused on physical warehouse technology tools, but instead on software and online warehouse technology tools. So if you've been wanting to get your warehouse operations and data better organized, take some time to read Capterra's insightful posts.
Three posts we like from Capterra:
Cerasis' blog answers all of those niggling questions you may have about both warehouse and supply chain technology. Whether you're just diving into learning, or have a solid foundation of knowledge, Cerasis' blog will help you establish or further extend your understanding of warehouse tech.
Three posts we like from Cerasis:
Warehouse owners or workers will find it hard to pry themselves away from Camcode's blog, which is dedicated to all topics concerned with warehouse technology. Their how-to guides, roundups of great products, and advice about best practice are all highly practical and easy to read, so are a fantastic resource for anyone in the industry to consult.
Three posts we like from Camcode: 
While many blogs use overly complex language and directions, Westfalia's blog is written in a refreshingly approachable way. Reading the blog, you'll learn about topics such as warehouse automation, maximizing warehouse space, and warehouse operations best practices.
Three posts we like from Westfalia: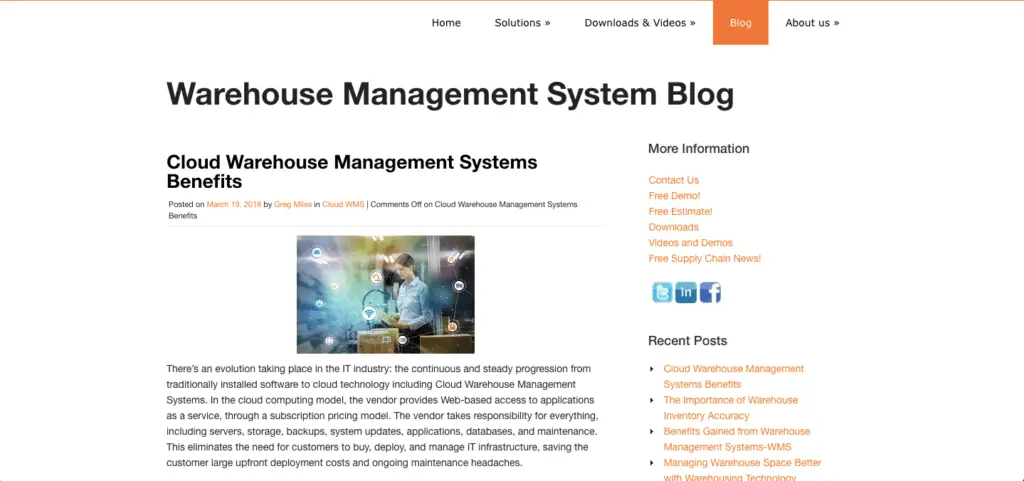 Warehouse Management Systems' blog is all about, well, warehouse management systems! This blog is a great find if you're looking to upgrade your current warehouse management system, or are just searching for general tips, guidance, or advice about the topic.
Three posts we like from Warehouse Management Systems: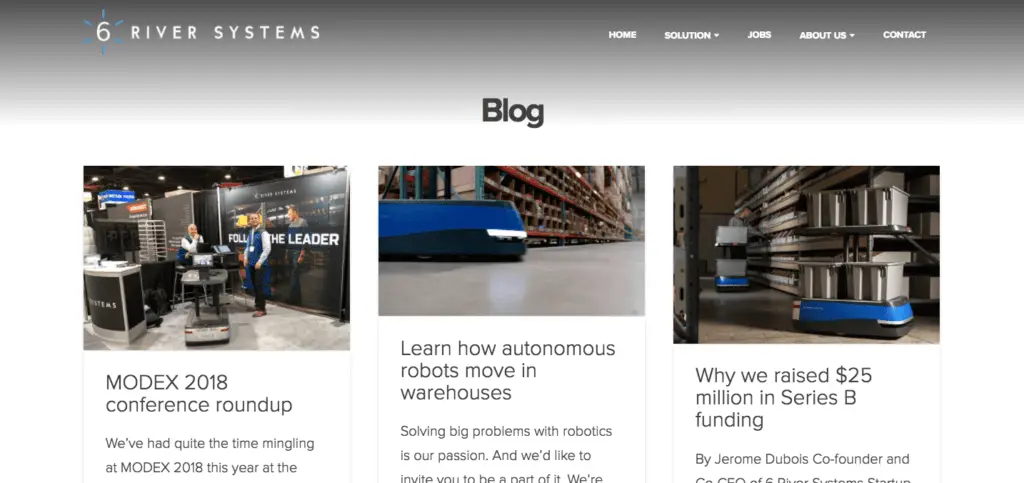 6 River Systems are the masters of mobile robotics, and the area they most excel in is creating world-class warehouse robots. As you can imagine, their blog is focused on educating readers about the benefits of using mobile robotics in warehouses. If you've ever wondered if your warehouse could use a bit of automated power, this blog will provide you with the information you need.
Three posts we like from 6 River Systems:
Warehouse Technology Inc. is a great blog for those who want to read up on warehouse technology, but don't know quite what they're looking for. The blog covers almost every warehouse tech topic under the sun, from fans and air curtains and dock levelers and loading docks.
Three posts we like from Warehouse Technology Inc:
Cisco-Eagle's blog is a helpful resource for warehouse owners and workers as it thoroughly covers a range of topics under the warehouse technology umbrella that many other blogs don't. For example, you'll find many articles about the link between warehouse technology and e-commerce. Have a read for yourself to find out if there's a topic that sparks your interest!
Three posts we like from Cisco-Eagle:
One of the best ways to learn about something is at look to how others are doing it. Food Logistics' "warehousing" blog category covers everything you'd want to know about the impact warehouse technology has on food logistics. There are detailed guides, along with posts with relevant news, interviews, and videos.
Three posts we like from Food Logistics:
Although Warehouse & Logistics News reports on warehouse news from the UK, it is a useful read for warehouse workers all around the world. After all, warehouse technology developments and trends in the UK often influence those of other countries. What's more, it's never a bad idea to keep up to date with what's going on in the international warehouse industry!
Three posts we like from Warehouse & Logistics News:
Products You May Be Interested In: